While Victoria Aleksanyan '04 (Yerevan, Armenia / Andover, KS) cites the plains of Kansas, where she spent her FLEX year, as the birthplace of her storytelling career, her hometown of Yerevan, Armenia's capital, is where she now chooses to rewrite the narrative of filmmaking.  
The desire to collect and craft stories began for Victoria when she started writing in her diary as a teen, a ritual she continued every day, for years. As a high school exchange student in Kansas, Victoria joined the ensemble of her school's West Side Story production. Each day, she would spend time writing in her diary about all she felt as a 15-year-old living in a new country far away from home. 
"I am certain that part of the reason why I became a filmmaker was due to the inspiration from my year as a [FLEX] exchange student," she said. "At the time, it [writing] was my inner universe. I used to go there and create worlds, using my stories from real life. I would adjust and twist them, and in the end, I had a story." 
She completed her first short film, Caregivers, while she was a student at Columbia University. The film tells the story of a documentary filmmaker obsessed with death who finds himself at the bedside of a terminally ill woman. 
"As an artist, as a writer, as a filmmaker, you have to feel the world really strongly," Victoria said. "And from that [my FLEX] year on, I experienced so many things, felt so many colors. I was writing poetry and stories at the time. But of course, I could not dare to say that I could become a director; it's such a big status in Armenia."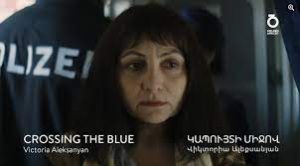 In 2018, Victoria, now a filmmaker and activist, swapped the film scene of Manhattan, where she graduated from Columbia University in 2016, for Yerevan on the brink of the 2018 Velvet Revolution, which would eventually overthrow Armenia's government. She had arrived in Yerevan to shoot her next short film, Crossing the Blue, with plans and a plane ticket to return to New York for post-production of the film.  
"When I returned to Armenia, I felt like the country was very stale and that it wasn't going anywhere," she said. "But soon I felt like the revolution provided an opportunity for me to join forces with other artists in Armenia, and to stay and do something important." 
In the wake of recent renewal of the conflict with Azerbaijan and the ceasefire agreement that resulted in the cession of territory that Armenia had controlled since 1994, Armenia has suffered from internal political instability, along with loss of peace and identity. Soon, artists of all outlets in Yerevan became intent on rebuilding — re-forging a new sense of purpose and identity through art. But there was still much to be done, especially in the realm of filmmaking.   
It was then that Victoria began to write a stronger Armenian film industry into existence. 
"For two years, I was involved in advocating for film reform in Armenia, and together with a group of activist filmmakers and producers, contributed to the draft of the cinematography law, which has since been finalized by law-makers and passed by Parliament," Victoria said. "It was essential to reform the film production and financing system because the Armenian film industry needed some sort of legal platform to exist and build on. The law also introduced a tax incentive for big budget productions to draw foreign producers to shoot films in Armenia." 
Alongside the desire to create was the lack of opportunity for any but a select few to do so. Though Victoria had applied for funding from the government to make more films in Armenia, she soon set that aside to rewrite the law and avoid any conflict of interest. The "About Cinematography" law was set to go into effect June 2022, a year after it was passed, but final approval from the government is still needed.
"It's ideal to say that activism and art go hand in hand, but lots of times, it [activism] is really hard work and can create lots of negative emotions; it's not as glamorous as it might appear to be," Victoria said. "You're with yourself thinking you are the only one fighting for something." 
Though she put her Crossing the Blue project on pause in 2018, Victoria has since finished it. The film, which explores themes of migration, was selected to be part of Golden Apricot International Film Festival in Yerevan and will premiere on the big screen this month. Victoria is also planning for an international festival run later this year, including the Sarajevo Film Festival's "Talents Sarajevo" program, where she will participate in as a director.
"The muscle that I strengthened through activism helps me to feel more ownership behind what I do and makes me feel more empowered in expressing myself in a different way," she said. "So, it opened a new window of not only art for me, but also expression in a larger sense." 
While Victoria dreams of returning to the United States' film scene, she is content in the work she continues to pursue in Armenia for now, acknowledging what a gift it is to be able to tell stories as a form of autobiography anywhere she is. 
"I think that [FLEX] was the beginning, when I realized that there are so many interesting characters around me, Victoria said. "Sometimes, only I can see them as part of my own stories; nobody else has that superpower."