LETTER FROM THE EDITOR
LETTER
Dear FLEX Alumni,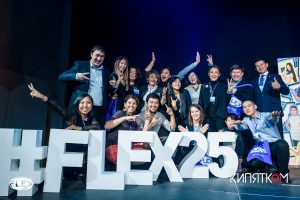 Funded by the United States Department of State Bureau of Educational and Cultural Affairs and administered by American Councils for International Education, the FLEX alumni program offers professional development, mentoring, and networking opportunities, as well as support for alumni initiatives that address needs alumni identify in their communities. In 2023, as FLEX celebrates its 30th anniversary, the program serves more than 30,000 alumni from 21 countries. 
FLEX alumni, this website is for you. It shares the successes of your fellow alumni and highlights some of the thousands of activities FLEX alumni organize over the course of a year. It is a place where you can learn about opportunities and gain professional knowledge and insights from your peers. 
Speaking for the entire team at American Councils that supports FLEX alumni programming – a team that stretches the globe from Minneapolis, Minnesota, to Ulaanbaatar, Mongolia – it is a joy to work with all of you! We love our jobs because the alumni of FLEX are amazing. You inspire us every day and prove that young people will make the future bright! 
It is our sincere hope that you find value in being actively engaged in the FLEX alumni community. We always welcome your ideas and feedback. 
Sincerely,
Rebecca Strattan, Program Manager, and Maris Mongero, Program Assistant
Secondary School Alumni Programs
American Councils for International Education 
Contact: mmongero@americancouncils.org