HISTORY OF THE BRADLEY HERALD FLEX ALUMNI NEWSLETTER
HISTORY
The Bradley Herald FLEX alumni newsletter was named after Senator Bill Bradley, who is known as the informal "father" of the FSA/FLEX exchange program. Together with Congressman James Leach, he introduced the legislation to create the FREEDOM Support Act (FSA) Future Leaders Exchange (FLEX) program in 1992.
The first "Welcome Home" issue of the Bradley Herald was published in Nov/Dec 1994 for the first group of returning FLEX students of the FSA/FLEX Program.  Kathy Lotspeich served as the first editor and alumni coordinator.  She later went on to work at the Bureau of Educational and Cultural Affairs.  As a cost saving measure, Mikhail Smetana, the design and production manager, had the Bradley Herald printed in Kyiv and personally transported the copies by train to Moscow for further distribution. From its first appearance, The Bradley Herald has been sponsored by the Bureau of Educational and Cultural Affairs, and produced and distributed to all alumni by American Councils for International Education. Representatives of U.S. Embassies and partner organizations also received copies of the newsletter.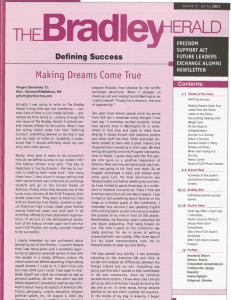 This publication was designed as a communications tool to share the experiences and achievements of FLEX alumni across Eurasia. The theme of each issue was announced in advance and alumni were invited to submit articles. Past themes have included topics as diverse as political participation, creative self expression, pursuing graduate studies, and challenges of young democracies. Alumni from each of the participating countries shared news of their projects and activities. By including profiles of successful alumni, The Bradley Herald also set out to inspire alumni to realize their leadership potential.  It also served as a vehicle for informing alumni of a wide range of opportunities, including internships, jobs, training programs, conferences, and scholarships.
Between 1997 and 2010 the publication was printed in Moscow and mailed to alumni (and their parents!) at first on a quarterly basis and later less frequently. In all 43 issues have been printed -many of them can be found in the archives section of this site.
As the number of alumni grew, distribution became more time consuming and expensive. On top of that, as alumni environmental awareness and stewardship grow, alumni have also pushed for the publication to go electronic in order to save resources by reducing paper and postage costs.  In response to numerous alumni requests, you are now viewing the first electronic edition of The Bradley Herald.
The Bradley Herald will continue to be a publication through which FLEX alumni can share their stories! This new format will allow for more photos and the posting of videos, in addition to print texts. As well, the e-newsletter easily links to all the web-based social media sites, offering alumni more ways to connect and share.