It was an election year when Eugeniu Sinchevici '16 (Chisinau, Moldova / Albion, PA) first arrived in Pennsylvania, a state often coined a "swing state" due to similar numbers of Republican and Democrat supporters. 
"I was obsessed with politics for a long time before high school, because for me, I understood from a very young age that if you want to change something, you choose politics; if you want to make money, you do business," said Eugeniu, a current member of parliament in Moldova.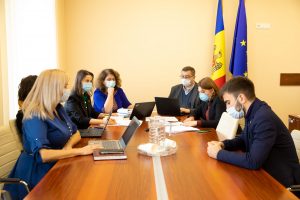 As one of the youngest members of parliament, at age 23, Eugeniu represents the Youth of Truth and Solidarity Party. 
Nearly seven years ago, Eugeniu remembers spending a year of high school in the United States, months before Donald Trump would be elected president. He recalls many candidates who visited Pennsylvania: Hillary Clinton, Bernie Sanders, and Donald Trump. 
"When I arrived in the United States, I was a bit misguided in the way I understood the role of the government in the lives of the people in Moldova," Eugeniu said. "I saw in America great perspective and maybe a solution to our problems in Moldova." 
Eugeniu began to shape his own politics and dreams for Moldova during this time. He recalls two candidates, Bernie Sanders in the United States and Maia Sandu in Moldova, who were running in respective elections in 2016. 
"One aspect I found interesting about both of the candidates was that they ran a campaign that was fundraised by the people," he said. "I really love the idea of being a politician who lives on small donations, who really focuses on problems such as inequality and fighting poverty."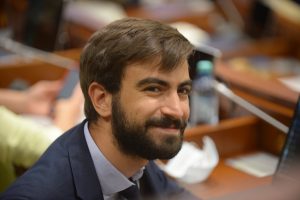 Since his return to Moldova in 2016, Eugeniu has dedicated his life to politics and doesn't plan on leaving. Before his current role as a member of Parliament, he volunteered for Youth of the Party of Action and Solidarity in all elections: presidential, local, parliamentary, and presidential again. In the second parliamentary, Eugeniu was also on the list, as the president of the Youth Branch.  
"I'm deeply convinced that the only way to make impactful change is through politics and through governing," he said.  
Eugeniu dedicates his policy efforts to the youth of Moldova. 
"As a youth organization, we have a couple of goals," he said. "The first goal is to bring positive change for the youth of Moldova. To bring positive change, we need to be in positions to deliver the change. This means we need to promote young people as candidates of different positions starting from local authorities and on national levels." 
In 2018, Eugeniu hosted the LIGHT conference, using funds from a FLEX Alumni Grant, to promote volunteerism and civic engagement among youth in Moldova. Three teams were chosen through an online form to present their community development projects to a panel. After sharing their stories and professional experiences with the attendees, the panelists selected one winning team, who implemented their project with mentorship from the Association of Women's Entrepreneurship in Moldova (AFAM). 
Now, as a member of Parliament, Eugeniu continues to work with different U.S.-funded projects. 
"Even if I'm not working directly with FLEX, I still work with U.S.-funded programs," he said. "The U.S. has always been a great support in helping Moldovan democracy." 
For Eugeniu, the future of Moldova is young and diverse. He is one of three FLEX alumni, along with Prime Minister Natalia Gavrilita '95 and Deputy Speaker of the Parliament Mihai Popșoi '05, who is working for a better Moldova. 
"It's a good thing for Moldova – to have a young politician," Eugeniu said. "We, as young people, have the courage to say things others wouldn't say sometimes. We have a lot of energy and willingness to learn and make mistakes, with an ultimate vision for Moldova. We have our whole lives to live here, so it's in our interest to make the country the way we want to live in it."