By Anna Novocrescenova '17 (Rezina, Moldova, placed by PAX in De Soto, WI) 
"Science moves fastest when there's plenty of debate and controversy," American physicist Lee Smolin once said. So does life. According to Amnesty International, communities where people are not afraid to speak their truth tend to develop faster than those in which freedom of speech and expression are limited, as debate is a source of poise and confidence for leaders who become the change. To nurture this mindset among local youth, Alexandra Bernaz '22 founded the first Debate Club in Causeni, Moldova.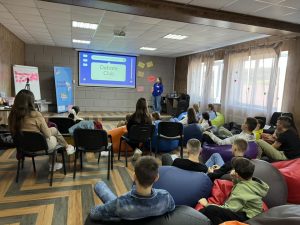 Since September of 2022, 30 debaters ages 15-17 have been gathering at the Edugolux Center every Saturday to share their thoughts on controversial topics which vary from "Does social media cause more harm than good?" to "Are hotdogs sandwiches?". Lighthearted or not, these prompts encourage students to improve their critical thinking skills and become better team players. Debaters report that the club teaches them to be good leaders and encourages them to make connections, as all sessions begin with games and icebreakers. The goal, according to Alexandra, is to inspire youth to spend a part of their weekend learning and interacting with peers.  
As someone who won silver at a state-level Speech Contest in Wisconsin while on her FLEX program, Alexandra knew what she wanted to share with Moldovan teenagers upon her return – a safe space for their thoughts and opinions and a team of likeminded people who will inspire each other to grow. "Words are the most powerful tool we have," says Alexandra. "They can both build us up and destroy us. Thanks to my American Speech Club, I now know how to express my thoughts in a constructive manner and have productive conversations with people whose views are different from mine.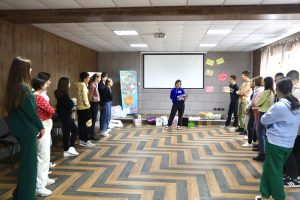 "In Moldova, teenagers are not always taken seriously by their parents, teachers, and even friends which often stops them from conquering their fears – delivering speeches in front of large audiences, trying new hobbies, and more. In the friendly environment of our Debate Club, all students feel comfortable and respected. They aren't running from change anymore; they are the change," shares the alumna.  
Debaters state that the sessions are also a way for them to practice their English-speaking skills without being pressured to follow any academic rules. When asked how the Club makes them feel, a popular answer is "free." In May, students will demonstrate their knowledge at a Debate Tournament where FLEX alumni will be invited as judges. What started as a club aimed at encouraging Moldovan youth to speak up when they have something to say has become a place where leaders build leaders – leaders that help each other grow and learn to face the issues in their community as a team.  
Featured alumni:  
Alexandra Bernaz '22 (Causeni, Moldova, placed by AFS in Cedar Grove, WI)