By Lida Asilyan '19 (Ijevan, Armenia / Adel, IA) 
Inspired by the proverb, "Give a man a fish and he eats for a day; teach a man to fish and he eats for life," a group of alumni studying at the American University of Armenia (AUA) organized an English book drive in cooperation with AUA Student Affairs to support schools in Vazashen and Tsaghkavan, Tavush Region.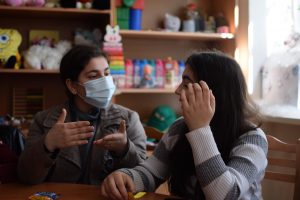 Alumni hoped the book drive would spread the joy of reading by providing students with an opportunity to expand their knowledge, learn new things, and get acquainted with quality literature. They aimed not only to give books, but also to give the students tips on how to use them and follow their progress.  
Before starting the book drive, the alumni researched the communities of the Tavush Region, and discovered that Vazashen and Tsaghkavan were the first two places on a list of cities that lacked English resources. Students in these communities are eager to learn English, but they are constrained by a lack of resources, including study materials, transportation, and safety issues at the borders.  
AUA Student Affairs helped with the organizational process, putting a box for donations in the student union, printing a poster, and spreading the word about the book drive. AUA has a big community of English readers, including many FLEX alumni from different parts of Armenia, that wanted to address this problem.  
Professors and students donated more than 50 beginner- to upper-intermediate-level English books, including fiction, non-fiction, poetry, and English language study materials. Five alumni delivered the books to the selected schools in March. While visiting the schools, they led activities to encourage the students to read more in English and to practice their language skills. The students also learned about the FLEX program, FLEX alumni activities, and how they can pursue an American education in Armenia.  
Originally from Tsaghkavan, Ida Yolchyan '20 (Tsaghkavan, Armenia / Tulare, CA) faced challenges because of the lack of access to reading material in English when she was studying the language.  
"We only had French as a second foreign language in our school and no English course was being taught," she said. "There were not even any materials I could use to learn English, so I had to travel to Ijevan, the closest city to my hometown, which was 25 kilometers away, to attend private English classes."  
On top of this, the public transport in her village did not work well, and it was hard for her to try to adapt to the time periods the buses would work. Ida would leave for her English lessons every day after her classes at school and get home around 7 p.m.  
"My goal was to learn English so that I could apply to the FLEX Program," Ida said. "Despite the difficulties, I managed to learn English to some level and became a FLEX finalist." 
The book drive and workshop were ways to encourage students to learn English and provide them with resources to support that learning. Varduhi Yeghikyan '19 (Yerevan, Armenia / Stockton, MO) also thinks that it is more important for the children living in this border region to have the appropriate knowledge in English to present their situation and the difficulties they face to the world with their own voice.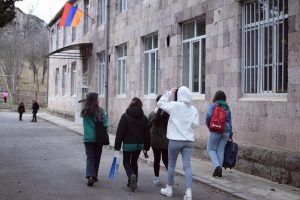 Two months later, Christina Abovyan '17 (Yerevan, Armenia / Portland, OR) and I followed up by returning to the schools and checking in on their progress. We learned that some of the study books are being used during classes, as teachers assign English exercises for practice. Other students are working through the books, using Google Translate to figure out challenging words. 
Holding follow-up sessions helps to keep the project more practical and effective, so the books don't stay on the shelves. We led interactive games and activities to show the students that learning English is not hard and that it is a matter of commitment and practice. 
"Because we presented different programs, the students saw why learning English was important and where it could take them," Kristina said. 
The following alumni also participated in the project: 
Nane Avedikyan '19 (Yerevan, Armenia / Elwood, NE) 
Aidin Turganbekov '18 (Selo Maevka, Kyrgyzstan / Monument, CO)