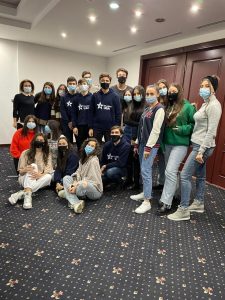 Lida Asilyan '19 (Ijevan, Armenia, placed by World Link in Adel, IW) 
The close collaboration between EducationUSA and the FLEX alumni community in Armenia has grown over the past two to three years, as they share the goal of empowering young Armenians to become leaders in their fields. When alumni return from their FLEX program, many of them consider pursuing higher education in the U.S. and return to Armenia afterward. EducationUSA Armenia and its Competitive College Club program, financed by the U.S. Department of State, help alumni to discover what options exist and to pursue those options that meet their needs and interests. 
The Competitive College Club (CCC) helps highly motivated and education-driven students from across Armenia to apply to U.S. colleges and universities. In Armenia, FLEX alumni usually meet the high standard needed to participate in this program. Besides getting advice and recommendations on university applications, FLEX alumni also contribute to the program by sharing their experiences with U.S. culture and education with non-alumni peers.  
"We have CCC students who eventually became FLEX finalists and vice versa; we have FLEX alumni who became CCC students and now are applying to U.S. higher institutions reaching out for advice, recommendation letters, and whatever I can help them with," says Inna Ghabulyan, the EducationUSA Adviser. She adds that the involvement of FLEX alumni brings a unique perspective to the program through hosting various events, such as a series of sessions titled "The U.S. through the Eyes of FLEX Alumni" for the past two years.  
At these sessions, alumni prepare short presentations about their host states, local and cultural traditions, and holidays they celebrate. The most recent meeting was held on Zoom in October of 2022, and nine FLEX alumni (Meri Avetisyan '22, Karo Harutyunyan '22, Gevorg Ghazaryan '22, Armi Mkrtchyan '22, Albert Avagyan '22, Khachik Vardanyan '22, Lida Asilyan '19, Lusine Piryan '22, Arman Hakobyan '22) who are in this year's cohort shared their experiences with over 40 CCC students from undergraduate and graduate cohorts. States with prominent universities, such as Iowa, New York, California, and Wisconsin, to name a few, were presented through the experiences of the alumni during their exchange years. The CCC students were also able to ask questions about the overall life and atmosphere of the states/universities to which they are planning to apply.  
Armi, a member of this year's FLEX alumni cohort and an undergraduate applicant to a U.S. university, shares, "I believe many people in Armenia have stereotypical expectations about the U.S., no matter how different each state is. Having an opportunity to talk about Alaska with our CCC peers was an opportunity for me to try to break the stereotypes about the U.S. and Alaska. I am in love with Alaska and sharing my experiences there was a great way to show to my friends that any state can foster a fun, educational, and unforgettable journey."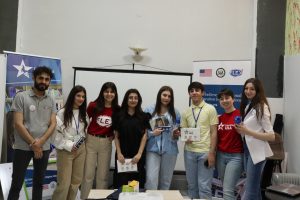 Joining CCC seems like a logical continuation of the FLEX alumni's journey with American culture, especially for those looking to pursue education in the U.S. However, the alumni's involvement in EducationUSA does not end with being a student at the Competitive College Club. "Interestingly enough, three out of five EducationUSA Adviser Assistants have been FLEX alumni who bring their expertise and organizational skills to the program," shares Inna.  
"Being a CCC student and Adviser's Assistant was a great opportunity for me to grow professionally and personally," shares Nare Galstyan. "I did not know about CCC for a long time, otherwise I would have loved to be in the undergraduate cohort years ago. However, I am still happy I had a chance to work with bright people and learn from their experience." 
She says the experience gave her a lot of skills, such as leadership, researching, and initiative-taking, and she has learned about many professional opportunities that she did not even dream about before. "Now, I teach the new CCC cohort public speaking, and I am happy to share my knowledge." 
The cooperation between the Competitive College Club and FLEX alumni continues to grow stronger. As FLEX alumni are aware, the FLEX experience does not end when the exchange year ends. Instead, it is only the beginning. It is because of the alumni's unique experiences during their exchange year that they are now able to share new perspectives, help others, and continue to grow into global leaders.  
Featured Alumni 
Meri Avetisyan '22 (Gyumri, Armenia placed by PAX in Houston, TX) 
Karo Harutyunyan '22 (Oshakan, Armenia, placed by American Councils in Sheboygan Falls, WI)  
Gevorg Ghazaryan '22 (Ashtarak, Armenia placed by PAX in Chehalis, WA) 
Armi Mkrtchyan '22 (Hrazdan, Armenia, placed by AFS in Sitka, AK)   
Albert Avagyan '22 (Yerevan, Armenia placed by World Link in Visalia, CA)  
Khachik Vardanyan '22 (Yeghegnadzor, Armenia, placed by Greenheart Exchange in Carthage, NY) 
Nare Galstyan (Lernagog, Armenia, placed by YFU in Baxter, MN) 
Lida Asilyan '19 (Ijevan, Armenia, placed by World Link in Adel, IW) 
Lusine Piryan '22 (Kapan, Armenia, placed by CIEE in Colby, WI) 
Arman Hakobyan '22 (Vanadzor, Armenia, placed by ASSE in Springfield, MO)