By Darija Barsukova '20 (Riga, Latvia / Oshkosh, Wisconsin)
Have you ever had the urge to learn a new skill on a random Tuesday afternoon? Participants of Petrykivka: Ukrainian Painting Workshop followed this urge and found themselves learning more than they expected.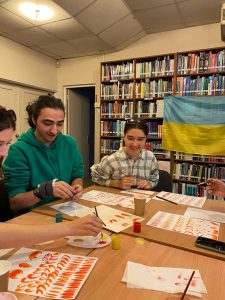 On September 27, two Alumni Coordinators, Darija Barsukova '20 (Riga, Latvia / Oshkosh, WI) and Oleksandra Samborska '19 (Kryvyi Rih, Ukraine / Loveland, CO), organized a cultural event focused on Petrykivka, a traditional Ukrainian painting technique. Because the event took place in Riga, Latvia, learning about Ukrainian culture was only a part of the cultural exchange. With an intimate group of 11 participants, Latvian, Georgian, and Ukrainian FLEX alumni learned more about each other's cultures throughout the event, which was inspired by similar workshops and concerts organized in Riga to ensure that Ukrainian refugees felt welcome in Latvia, along with Oleksandra and Darija's experience sharing their culture while in the United States. The event exhibited what FLEX alumni know best: exchanging cultures does not stop after leaving the U.S.; it is only the beginning.
During the two-hour event, participants also learned the history behind Petrykivka. The unique painting technique comes from the village of Petrykivka in the Dnipropetrovsk region of Ukraine, and it started out as a way to decorate ovens and houses made from clay. These paintings were also believed to protect homes and those who lived in them from malevolent forces. Later, people began drawing Petrykivka on spoons, spatulas, and other household items. Today, people use Petrykiva as a drawing style on paper.
Oleksandra, who has experience painting Petrykiva since she was a child, guided the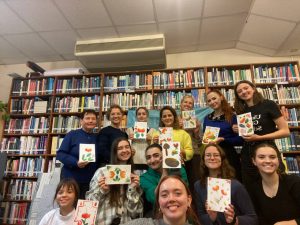 participants through learning simple elements of this painting technique, which is composed of small strokes of a brush, circles painted with fingers, and wavy lines created by both. Participants then created cards using the skills they acquired. Oleksandra shared that by teaching Petrykivka, she connected more deeply with her culture.
Ieva Busa '22 (Jelgava, Latvia / Portland, IN) shared, "The workshop made an excellent impression of Ukraine and the values of its culture. It was a great opportunity to get to know other participants interested in this project and learn new skills. This workshop was well organized, which made the experience of the Petrykivka drawing process positive and enjoyable." Several participants shared that they would like to participate in similar activities organized by alumni in the future, as they felt it benefited their personal development. A workshop attendee shared that she hasn't picked up a paintbrush in ages, but this event inspired her to revisit her old hobby. She also enjoyed getting to learn about Oleksandra's culture in an informal and interesting way. The event also allowed participants to feel productive while taking a break from their busy schedules.
The Petrykivka Painting Workshop encouraged participants to learn something new – be it a skill, a fact about another culture, or simply a word in a foreign language. It also brought together people from different backgrounds, including alumni, and provided them with an opportunity to connect with like-minded individuals. It uniquely highlighted Ukrainian culture. If you ever follow the random urge to learn a new skill, you never know what you'll learn or who you'll meet along the way.