Congratulations to the winners of the 2020 FLEX Alumni Photo/Video Contest!  Annually, the FLEX Alumni program invites alumni to submit photos and videos that they have taken during alumni activities, workshops, and events with the chance to win prizes. After two months of receiving and reviewing some exemplary photos and videos with stories defining them, the winners have been selected by a team of judges from the U.S. Department of State Bureau of Educational and Cultural Affairs.
The Alumni Choice Award for the photo or video that received the most likes on our FLEX Alumni Facebook page (as of midnight August 9, 2020) will also be announced in this release! You can join the FLEX Alumni community at https://www.facebook.com/flexalumni and view all the submissions for this year's competition here.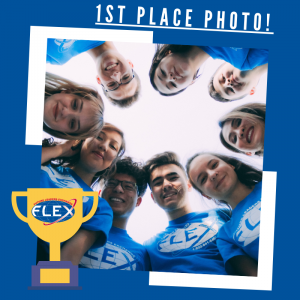 Congratulations to the winners!
Best Picture Award: "Faces of FLEX Turkmenistan"
This picture is from FLEX Appreciation Day in 2019. Alumni in Turkmenistan gathered to celebrate the occasion and took this picture. Submission by Ilyas Seisov '09 (Ashgabat, Turkmenistan/Estancia, NM)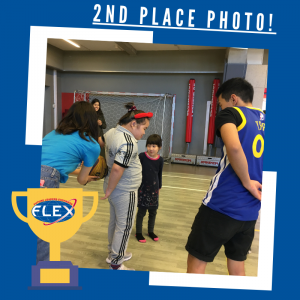 Runner Up Best Picture Award: "Equal Opportunity for All"
This picture is from the first basketball practice from the project "Basketball for All" that introduced children with Down Syndrome and Autism to the sport of basketball. The project was designed by Aidin Turganbekov '18 and implemented with the help of the FLEX alumni community at the American University of Central Asia.  The project is dedicated to creating an inclusive world through basketball practices. Submitted by Aidin Turganbekov '18 (Maevka, Kyrgyzstan/Monument, CO)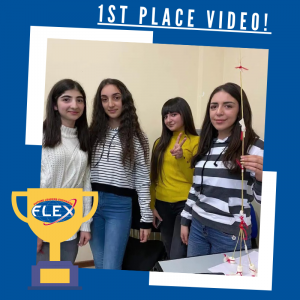 Best Video Award: "Body, Voice, Imagination Workshop"
This video is from the first day of a workshop in Armenia. FLEX alumni spent time building marshmallow towers, playing leadership games, and enjoying hot chocolate and had a discussion about leadership, volunteering, active citizenship, team building and ways to use leadership skills in our daily lives to make a change in our communities. During the second day participants worked with middle-school aged students where they explored their imagination by drawing imaginary animals and creating a backstory for the animal. They explored their creativity and gave a presentation about their animal – all while working in groups. Submitted by Nane Avedikian '19 (Yerevan, Armenia/Elwood, NE)
Watch the video here.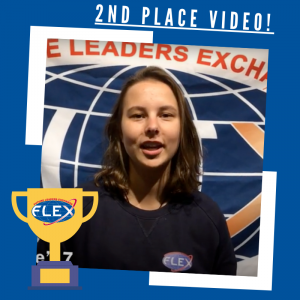 Runner Up Best Video Award: "Thank you, FLEX!"
This video is from the first ever FLEX Appreciation Day celebration in Latvia! Alumni gathered to celebrate this amazing program.  Alumni shared stories from their exchange year and what they are most thankful for from their FLEX experience. Like any true American birthday celebration, there was singing, dancing, doughnuts, and a lot of smiles to celebrate. Submitted by Karīna Vintere '17 (Ventspils, Latvia/Ruidoso, NM)
Watch the video here.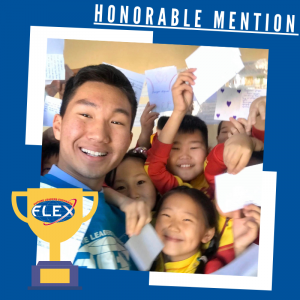 Honorable Mention Award: "Letters with Love"
On Thanksgiving Day, over 50 Mongolian elementary school students celebrated together. They expressed their gratitude to their friends and family by writing letters and reading them in front of their classmates. Submitted by Tsogtbileg Munkhjargal '19 (Choibalsan, Mongolia/Colorado Springs, CO)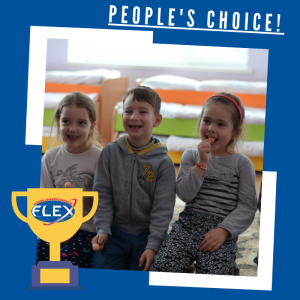 Alumni Choice Award: "Happy Lollipops"
This is a photo of participants  enjoying "the taste of everyone's childhood" and watching an educative cartoon on good manners during a FLEX Alumni event. The goal of this event was to educate kids about manners and teach them responsibilities. Submitted by Maria Panainte '17 (Hincesti, Moldova/Manchester, MD)