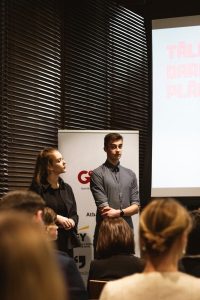 Upon returning home to Latvia from his exchange year in the United States, FLEX alumnus Kristers Berzins '19 (Monument, CO/Riga, Latvia) did not waste any time in putting his newly acquired skills to the test to  make a difference in his community. Kristers has been a FLEX alumnus for only a year but has proven himself to be a very active and reliable alumni in Latvia.
This past October, Kristers was selected to be part of the Go Beyond Program, a youth development program which aims to improve young individual's leadership and social skills to help them conquer their future goals. Kristers attended conferences, learned from mentors, and started implementing his own projects. For his first project, Kristers organized a group of volunteers to help children at the Stropiņš Center, which provides a safe and positive environment for youth from disadvantaged families. Through organizing workshops and after-school activities, Kristers and his group are focusing on improving the children's social skills. As of the writing of this article, the team has organized multiple dance and music classes, and even a video-making workshop. Sometimes they simply spend time with the children and play with them, which means so much to the kids. With this project, they have raised awareness about the need for more after-school activities at the center, and with the help of partner organizations, such activities will be held more frequently moving forward.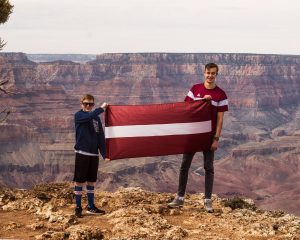 Besides being active in his community and improving his leadership skills, Kristers is also promoting the FLEX Program. Recently he released a podcast with his U.S. host parents, Lori and Chris, called "EXCHANGE" to talk about hosting from the perspective of the exchange student and from the perspective of a host family.   They decided to create this podcast in order to share their story in hopes of encouraging students and host families to apply for exchange programs. They hope to achieve this by sharing their experience of spending a year together as a family, show why hosting is important, why it matters, and the positive impact  on Kristers and his host family.  Feel free to check out the  podcast here.
In the one year since the end of his FLEX year Kristers has become a leader in his community and has already generated a positive impact upon its youth. He is a great example of the FLEX experience and how much change it can cause, both in the participant and in the community at home.
Written by Karina Vintere '17 (Ventspils, Latvia/Ruidoso, NM)