Lilit Gizhlaryan '09
Verin Karmiraghbyur, Armenia / Rosly, South Dakota
Education: MA in Spanish Language and Literature from Yerevan State University.
'I decided to continue listening'
What is your current job? I actually have two jobs. I'm a Cultural and Language Facilitator at Peace Corps Armenia. There I'm providing Armenian language classes and cultural knowledge. They are aimed at building resilience of volunteers who have just arrived in Armenia. In a way it's a bit similar to the FLEX Pre-Departure Orientation Program but on a long-term basis.
Together with my colleagues I also run an NGO called Imagine which is the Center for Conflict Transformation. It was actually started by another FLEX alumna from Azerbaijan,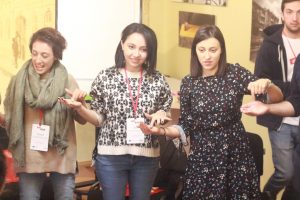 Geybullayeva '00, in collaboration with her Armenian friend. We focus on conflict transformation and reconciliation in South Caucasus, Turkey, and sometimes Russia and Ukraine. My work is project-based and funded by the U.S. Department of State, with each cycle lasting a year. In general, I am part-time but once a year we gather the project participants in a chosen location for so-called 'Dialogue Periods' or 'Dialogue Days' and during those times I work from early morning till night.
What usually happens during the Dialogue Periods? Our region is very difficult to work in, so everything– from location to topics to participants' requests – has to be carefully planned and taken into account. Since the conversations that happen there are often painful, especially in the first couple of days, we try to find remote places which have limited Wi-Fi connection and which allow the participants to really engage in the process and bond with each other. We talk about the past and the present, we don't shy away from the topics that are considered to be cultural taboos and we compare how history is told in each country. You see, every country has its own timeline of historic events and often we have no idea just how drastically different those timelines are. During the Dialogue Days the participants also decide on the topics for the multimedia projects which they create together remotely afterwards. We also publish articles in the Journal of Conflict Transformation. (Here is a link to Lilit's article 'The Muslim Heritage of Yerevan').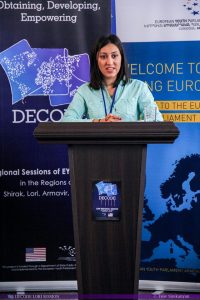 Did you participate in the Dialogue Days as a participant? Of course. I first attended it as a participant in 2014. I have to confess that the first few days were difficult. It's impossible to erase all the previous layers of your experience – your upbringing, education, your family stories and, most importantly, your prejudices – in a space of ten days. Every day something surprised or even shocked me, but I emerged out of the Dialogue Period with more knowledge and understanding of the people on the other side of the border and decided to continue listening. I believe that being able to hear a different prospective is crucial in conflict transformation. Once you start doing that, you begin to see human beings with their happiness, grief and excitement, not just politics and timelines.
What impact do these kind of projects have on young people? Being able to meet each other face-to-face can't be overestimated. But I also think that the younger generation is different from the previous ones – they have more opportunities to travel and follow global trends, they are less restricted and possibly more open-minded. For me the biggest success of this work is to see how people from conflicting regions become friends, sometimes even friends for life. During my first Dialogue Period I became friends with a guy from Azerbaijan and now, five years later, we're still in touch. We don't meet in Azerbaijan or Armenia but we plan to see each other in Europe. Every time one of us is travelling there, either he or I message: 'I'm in Europe. Are you? If so, shall we go for a hike in the mountains?'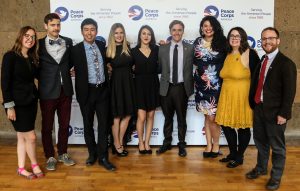 You mentioned that you also work for Peace Corps Armenia. How did you get into this work? I first came into contact with the Peace Corps volunteers when I was a teenager. They were the ones who encouraged me to apply for the FLEX program and then gave me free English language classes. I liked how these volunteers looked and behaved, they seemed so foreign and interesting, even their backpacks were very different. So I decided to participate in the FLEX contest in order to experience life in the U.S. myself. Every day I'd walk to a different town to take an English class and then walk back. I was preparing for the FLEX contest for months and months. And now that I've had this great opportunity, I'm paying back to the Peace Corps program with my gained skills.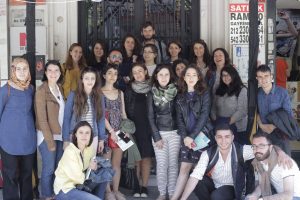 Did the FLEX experience influence your career? It definitely did. As much as I enjoyed my FLEX year, to me its importance is primarily not in individual memories, but in the fact that it has changed my worldview. It's interesting how one interest led to another and how years later I find myself doing conflict transformation and international exchange work. The FLEX Program allowed me to see the world through a new set of lenses. Many people have contributed to that. My English teacher, who inspired me and with whom I still keep in touch, my basketball team… But perhaps one of the biggest influences of all was my host mom. We talked to each other in our kitchen for hours – while cooking, drinking tea, snacking. Many years later I still remember many details from these talks.
What is your message to the fellow FLEX alumni? The best thing about travelling is to come back to the place where you grew up and see it with new eyes, as if for the first time. Try and be involved in the life of your local community wherever you are – every community is full of inspiring, wonderful people. Be kind and good wherever you are! T. Eliot put it better than anyone: "We shall not cease from exploration, and the end of all our exploring will be to arrive where we started and know the place for the first time".
Interview conducted and written by Tatyana Movshevich '04