[Zafarbek] is confident that one day Enesay.kg will become profitable and its designs will be in demand not just in Kyrgyzstan, but in the whole of Central Asia.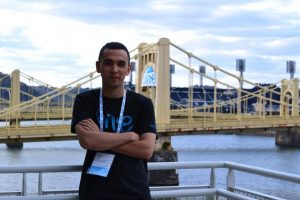 Zafarbek Sulaimanov '11
Jalalabad, Kyrgyzstan / Seattle, WA
Education: BA in Political Science and International Relations from Istanbul Sehir University and the Catholic University of Leuven
While preparing for his FLEX year in the U.S., Zafarbek Sulaimanov naturally planned to take a big suitcase with him with a range of exciting and original gifts from Kyrgyzstan for his host family and future American friends.  Arriving to a huge Osh bazaar in the south of the country, he was very disappointed – none of the items on the stalls were produced in his country, or even represented it. In the end he picked up a pack of T-shirts with a Kyrgyz flag printed on it made in Uzbekistan and left the bazaar deep in thought. If Kyrgyz clothing and accessories brands didn't exist, why not start one?
While in America Zafarbek had a go at creating clothing. He bought a few plain T-shirts and personalized them with a print which said 'I Love KG'.  These T-shirts caused a stir among his American friends – but not the one he expected.  'Why do you love kilograms so much?' he was asked a few times a day.  He didn't mind the kilogram-inspired attention, but realized that if he were to design clothing seriously, they would need to be more interesting.
'The enthusiasm that I brought home from the FLEX program can't be underestimated. At the time I didn't have a plan for my own business, but my mind was full of interesting ideas,' highlights Zafarbek.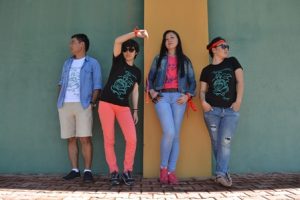 After graduating from his high school back in Kyrgyzstan, Zafarbek pursued a Bachelor's degree in Political Science and International Relations in Istanbul, Turkey. Since textile production is one of the main industries in Turkey, Zafarbek's dream of starting a Kyrgyz clothing line returned to him once again.  He shared the idea with a few Kyrgyz students at his university and a business team was quickly formed.
'Funny enough, none of us studied business administration, and that didn't discourage us. We were so excited about setting up the first ever brand of Kyrgyz clothing, that we spent most evenings discussing it in cafes rather than studying our subjects,' remembers Zafarbek.
For an annual New Year celebration with the Kyrgyz diaspora in Turkey, they produced a few shirts and hoodies with messages inspired by Kyrgyz traditional culture. One T-shirt said: 'Every Kyrgyz drinks kymyz', with kymyz being a popular fermented dairy drink made from horse's milk.
Sold at an astonishing 100 dollars per item, the products stirred up interest and brought in the start-up capital needed. 'It showed us that Kyrgyz people both in the country and abroad were interested in wearing clothes that reflected their culture. Over the last decades Central Asian countries have been searching for their post-Soviet identity and we decided to contribute to it through fashion,' says Zafarbek.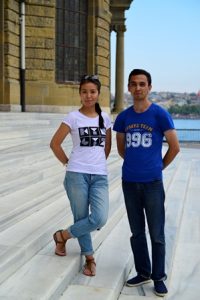 Yet when he received an Erasmus scholarship and went to study in Belgium for six months, the project was put on hold. Upon return to Istanbul, the FLEX alumnus didn't find nearly as much enthusiasm among his friends as they had shown before. 'People wanted to make quick money without investing so much time or effort.  I wanted to set up a real business. My best friend Karima Talgat Kyzy was still up for a challenge and in the end we continued with just the two of us under the name Enesay,' he says.
In the next few months Zafarbek and Karima established partnerships with freelance Kyrgyz designers via Skype and met with dozens of Turkish and Kyrgyz entrepreneurs and investors in Istanbul. Arranging meetings with textile magnates wasn't as difficult as they had initially thought – many businessmen were interested in hearing new ideas and a few even offered to help.
'A few members of Kyrgyz diaspora in Turkey wanted to support a young initiative and gave us $6000 for sample production. That allowed us to make 2000 T-shirts and ship them to Kyrgyzstan and the diaspora in Moscow, New York city, and Berlin. On these first T-shirts we added a little tag saying 'Made in Turkey by the Kyrgyz',' Zafarbek says. 'Alongside this job, we were hired as part-time translators and invested all of the money that we earned into making samples. Some textile factories allowed us to use their equipment for free and for a while we produced the clothes ourselves'.
O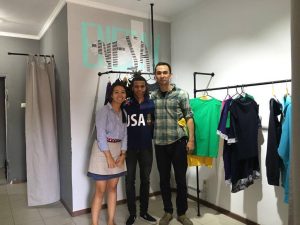 nce Enesay.kg became well-known, orders for new clothes started to arrive. The company's products were sold online and through family and friends, but delivering item from out of Turkey wasn't financially viable. So once Zafarbek and Karima completed their degrees, they decided to go one step further and opened a large creative store in Bishkek – a project that was worth over 100 thousand dollars. After a series of meetings with investment companies in Turkey, Zafarbek found an investor who liked their business model and was ready to provide funds.  But, as luck would have it, at that time an economic crisis erupted in Kyrgyzstan and sales within the country decreased sharply. In this volatile climate, opening a new store was a risky endeavor.
'We greatly decreased our project and in August 2015 set up a small, but nevertheless very interesting boutique shop and our own manufacturing factory in Bishkek. Our customers were happy to have our physical presence in the country and we organized many talks and events with them. All of our products are very reasonably-priced. We wanted young people from normal families to afford them'.  Interested in some of Enesay's designs, check them out here:
To bring in more funds for company's creative development, Enesay started to accept orders from corporate clients, including the organizing committee from the World Nomad Games, which were hosted in Kyrgyzstan in September 2016. The company made sports uniforms for the U.S. team.
In the last couple of years the brand has undergone some changes as well. It is now mainly focused on urban casual clothing with culturally-relevant designs. Enesay's designs now include snow-covered peaks of Kyrgyz mountains, an ancient musical instrument komuz, the enormous saline lake Issyk-Kul, and even yurts lost in amidst endless pastures jailoos. There is so much variety you can't help but want to visit the country!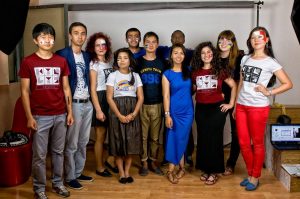 Dedicated to their community, the young entrepreneurs are setting up a unique space for designers in Bishkek, the capital.  'There are many talented artists in Kyrgyzstan, but many don't own laptops and can't develop their graphic design skills. We would like to provide them with an open space and free materials, such as laptops and textiles to do it. They won't necessarily have to work with us and are free to sell their designs elsewhere. If the creative industry in the country develops, everyone will benefit eventually,' he notes. An article about Enesay can be found here.
Working from 7 am until midnight, at the moment Zafarbek still lacks a steady income and puts most of his earnings back into the company. But he is confident that one day Enesay will become profitable and its designs will be in demand not just in Kyrgyzstan, but in the whole of Central Asia. He advises the FLEX alumni to share his drive and motivation about things they love: 'Be brave and enthusiastic about your ideas. Don't be afraid of failing. Eventually, if you are passionate and hard-working, things will work out'.
Article written by Tatyana Movshevich