It is late afternoon in Kyiv, Ukraine, and journalist Ivan Verstyuk '00 (Kyiv, Ukraine / Leavenworth, KS), usually the one conducting interviews, is answering a video call as the interviewee.
"I've been staying in Kyiv since the first day of the war," he says. "I see the solidarity of Ukrainian society as people start agreeing with each other, helping each other. I'm happy to be a journalist. It's not only that I have a job; it's more than a job."
Once each week now, Ivan travels to a different part of Ukraine. Last week it was Bucha, where Ivan observed the aftermath of a Russian invasion and interviewed those who have stayed behind.
"People didn't really like to talk about war there, in terms of political analysis or invalid political terms," he said. "They speak about the emotions mostly: 'We don't want our town to be associated with a tragedy, because we will still love our town. It's a great place to be to raise kids, to have families, to have jobs, to walk, to go shopping, to enjoy parks and shopping malls.'"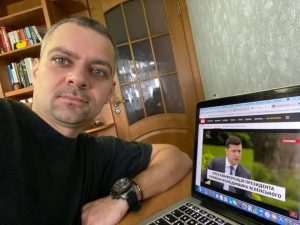 Ivan collects his interviews together and later uses them to craft pieces for one of his many outlets, whether it is his personal blog or for the "New Voice of Ukraine" magazine. He used to cover the business beat before the war.
"For journalists during the war, it's not only about the news. It's also about sharing human life stories that are important," he said. "The pre-war assignments look really boring now, because war is bringing out the extremes of life and death."
In his blog, Ivan writes daily about various topics: learning English, lessons from the war, 10 things to do before you turn 40, and writing and career tips for journalists. He also tweets, more than ever before, he said.
"It's important for us and for the audience around the world to get to know more about Ukraine, about the war, about the battlefield experience," he said.
And when he has time, he oversees the translation of his newest book, Winds of Change, which two FLEX alumni are currently working to translate. The book is a collection of stories and reflections that attempt to understand Ukrainian politics, business, and culture, and where they all intersect. The essays also touch upon his travels to other countries accompanied by his personal observations.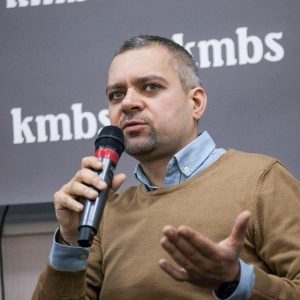 On all platforms, Ivan writes in both Ukrainian and English – a skill he said he drastically improved while on the FLEX program. In fact, his high school in Kansas had a school newspaper. After improving his English, Ivan published a column about living with a military host family.
"Having this taste of American life and American education became a turning point for how I view things," he said.
In a recent blog post, he wrote:
I want to start with something I saw today. I was having breakfast in a cafeteria not far away from where I live in Kyiv. And I saw this couple, a young man and a young woman having their breakfast together.
That reminded me of peaceful life in Kyiv, back when you only needed summer to come to be happy. I was thinking: will we ever get our normal life back? That's a hard question that almost everyone in Ukraine is asking nowadays.
For now, Ivan continues writing from his apartment in Kyiv, dreaming up his next project and working for justice, which includes writing stories as he witnesses them, fighting fake news, and thinking about a reality beyond the war.
"News lives only for one day," Ivan said. "But life is longer."