By Diana Shalashna '18 (Poltava, Ukraine / Englewood, OH)
From managing perfectionism to podcasting, from web development to youth civic engagement, it is hard to imagine an area where there is no specialist among FLEX alumni. That was the mindset of Diana Shalashna '18, Liudmyla Pustovit '11, and Kyrylo Beskorovaynyy '11 when they launched the USG Learning series. The team believed that to rebuild Ukraine in the future and make the world a better place, they needed to encourage people – not only Ukrainians – to understand the importance of education and gaining new skills even during challenging times.
USG Learning is a series of workshops, lectures, and webinars delivered by FLEX alumni for the alumni community and international participants. The project started in July and lasted for three months until the beginning of October, during which the project hosted 12 events. The idea to create USG Learning originated from FLEX Learning, a similar project led by alumni in 2020. The organizers of the USG Learning series were also inspired by FLEX alumni: their different and unique backgrounds, skillsets, education, work, and personal life experiences.
Because FLEX Learning brought the alumni community closer during the COVID-19 pandemic, Diana, Liudmyla, and Kyrylo wanted to reach the same effect during this challenging time for Ukraine. USG Learning also sought to fundraise for the initiative "FLEX Alumni Fundraise for Ukrainian Armed Forces," which the three alumni began in March 2022 to fundraise for FLEX alumni and their family members in the army, as well as Ukrainian Armed Forces in general.
The speakers at the events consisted of FLEX alumni, eleven from Ukraine and one from Romania. They applied to be speakers on a specific topic, and the organizers chose them based on their experience and passion. Just like the organizers expected, the alumni speakers specialized in various spheres, so the events didn't overlap, and the audience could pursue a topic that resonated with them. Since all the events happened online, it was simple to attract an international audience.
One of the events organized as a part of the series was "Arranging Wildflowers in a Vase" by Veronika Bessarab '05, a professional florist from Ukraine. During the workshop, alumni and non-alumni participants learned how to take care of the wildflowers and make bouquets together through Zoom. They found this process exciting and relaxing, and many admitted this was their first time trying this kind of activity.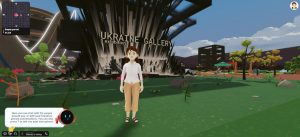 Another notable project, "NFTs for Ukraine: How Crypto Supports Ukraine's Army and Humanitarian Missions" by Denys Andrushchenko '12, took place in a virtual world. To join the event, all the participants logged in to Decentraland and created their avatars. Using the platform, they could explore the Ukrainian Art exhibition, interact with each other, and join Denys's lecture about NFTs. One of the participants reflected on the experience: "It was extremely interesting! I have realized that NFT may be a useful way to make some of the projects I have come true!"
Just like the speakers, the events' topics were versatile and, most importantly, practical. They included:
How to Launch a Podcast by Kyrylo Beskorovaynyy '11, co-founder of Kunsht, the first Ukrainian popular science media
Arranging Wildflowers in a Vase by Veronika Bessarab '05, a professional florist
Everyday Reflection by Maria Bokovnia '17, alumna of Ukrainian Leadership Academy, Events Crew Member at Sofar Sounds
Linguistics for Dummies by Kyrylo Perederii '19, co-founder of Kunsht, the first Ukrainian popular science media
Using Microsoft Excel in Business and Personal Life by Oleksii Morgun '07, Senior Financial Partner at Luxoft
Youth Civic Engagement by Yaroslav Morozov '17, Board Member at 'Young European Ambassadors' initiative in Ukraine
Perks of Having a Mentor and Tips for Finding One by Olha Ruda '11, Founder & CEO of the Mentorship Program 10:11, Mentorship Consultant
Web Development for Beginners by George Nicolae '18, a front-end developer and Multimedia Design student
Managing Perfectionism by Karina Tweedell '03, life skills educator to individuals with non-neurotypical minds
West vs. East: Film Censorship in XX Century by Dmytro Skriabin '13, employee at Molodist Kyiv International Film Festival
NFTs for Ukraine: How Crypto Supports Ukraine's Army and Humanitarian Missions by Denys Andrushchenko '12, Founder of WTFBit Media
Grant Writing and Fundraising by Vira Hrabchuk '19, Project Manager at National Rehabilitation Center "Unbroken"
Together, 205 participants attended these events, including 41 FLEX alumni. As a result, the project raised $1,310, and the donations were used to purchase needed protective gear for Ukrainian soldiers. Even though the project is over, the alumni community still benefits from the recordings and continues to explore new topics!
Liudmyla Pustovit '11 (Kyiv, Ukraine / Fairmont, WV)
Kyrylo Beskorovaynyy '11 (Kyiv, Ukraine / Cambridge, WI)
Veronika Bessarab '05 (Cherkasy, Ukraine / Hanover, PA)
Maria Bokovnia '17 (Cherkasy, Ukraine / King George, VA)
Kyrylo Perederiy '19 (Kyiv, Ukraine / Windham, ME)
Oleksii Morgun '07 (Kyiv, Ukraine / Arkansas City, KS)
Yaroslav Morozov '17 (Kharkiv, Ukraine / Monument, CO)
Olha Ruda '11 (Kyiv, Ukraine / Byron Center, MI)
George Nicolae '18 (Bucharest, Romania / Granbury, TX)
Karina Tweedell '03 (Kharkiv, Ukraine / Marion, IN)
Dmytro Skriabin '13 (Kyiv, Ukraine / Tulare, CA)
Denys Andrushchenko '12 (Kyiv, Ukraine / Inwood, WV)
Vira Hrabchuk '19  (Lviv, Ukraine / Colorado Springs, CO)