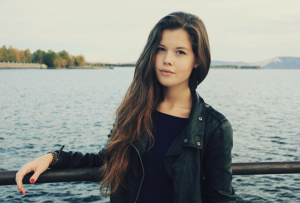 I'd like to work in the field of International Development in Russia. I hope to create my own organization that will educate farmers, help them to introduce sustainable technologies and make their businesses more profitable, efficient, and green.
Anna Yuryeva '15
Togliatti, Russia / Urbandale, Iowa
Education: Lyceum of Higher School of Economics in Moscow – current
This July you were invited to take part in the Young Sustainable Impact Conference in Oslo, Norway. What was this conference about?
Young Sustainable Impact is a platform for young entrepreneurs that want to solve climate issues through green and sustainable technologies. It was set up by a group of Norwegian students and graduates who decided to share their skills and inspire young people from different countries. The Oslo Conference 2016 was the YSI's first global conference for 20 young change-makers who came to develop sustainable projects and work on new solutions. The participants were invited from all corners of the world. I was lucky to be one of them.
How were you selected?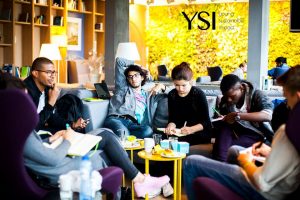 I found out about the YSI Conference from a FLEX alumna Alexandra Pukhova '15 who posted the conference announcement on the FLEX Alumni Russia page on Facebook. When I read the description of the conference, I immediately wanted to attend – the conference combined two of my main interests – environmental protection and business. But since I wasn't an entrepreneur I doubted that I'd get selected. Still I submitted a research paper on the topic of green technologies in Russian business, was invited for an interview, and successfully passed it. I was so excited to be invited to Oslo!
Did you enjoy the conference?
Very much so. This conference strengthened my interest in the topics of climate change and entrepreneurship further. None of us knew what to expect when we arrived. I had prepared a project proposal, which was dedicated to introducing sustainable farming technologies and building a supportive network for farmers in Russia and introduced it to conference participants. Since another attendant from Tanzania had a similar topic, we decided to create a team and jointly work on a project. Our other team members were from the U.S., Kazakhstan, and Lebanon.
What was your project about?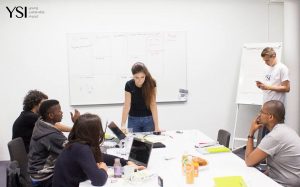 We developed a proposal for a green farming community in Tanzania called 'Hope by SES' (Sustainable Environmental Solutions). In this community only sustainable farming practices, such as natural fertilizers and 'zero emission' machinery would be used. What made our village different from other self-sustainable villages was an educational innovation center which would teach local people about farming, green technologies, and entrepreneurship. We worked on the business plan day and night and on the last day (and after a sleepless night and four strong coffees) we pitched our idea to investors. They asked lots of questions and… picked it up! At the moment my teammate from Tanzania is discussing the project with the government in Tanzania and we are planning to set up the first village by the end of 2017.
What are your other conference highlights?
Besides working on the project we attended lectures and events, including a reception at the Canadian Embassy and a lecture by Erick Osmundsen, the CEO of Norway's leading recycling company 'Norsk Gjenvinning'. The company that amazed me most was Otovo. It installs solar panels for businesses and individuals for free and its customers only have to pay a small monthly fee. The company has such an ingenious business plan and it does really meaningful work!
When did you first become interested in sustainable solutions?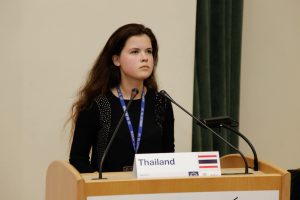 It happened during my FLEX year in the U.S. My host sister worked in the World Food Prize Foundation and told me about Norman Borlaug's development of high-yielding wheat varieties, which saved about one billion lives. I became really interested in this topic and applied to participate in the World Food Prize Iowa Youth Institute, a day-long student conference on food security. In my application I described different farming issues that Russia was facing, such as lack of green technologies and risk reduction mechanisms, and highlighted the problem of poverty. My application was successful and I attended the event where I listened to lectures and contributed my ideas during workshops. It was very inspiring. After returning to Russia I joined my high school's green club where we gather batteries and phones for recycling and promote energy saving technology among students.
Are you involved in any other volunteering?
Together with my best friend Daniella Aruina (also a FLEX alumna), every Friday we teach English to adults at the American Center in Moscow. The language abilities of our students are very different. Some people speak basic English while others come to the club to practice speaking fluently. But they all enjoy the learning process. We even have an older lady who came to the club to learn English from scratch.
What would you like to do in the future?
I'd like to work in the field of International Development in Russia. I hope to create my own organization that will educate farmers, help them to introduce sustainable technologies and make their businesses more profitable, efficient, and green. At the moment Russian farmers are able to receive financial support for business development, but they still lack skills and education in farming. If they learn how to grow more food using sustainable technologies, local products will become cheaper and the country's economy will benefit from it greatly.
Message to FLEX alumni:
Don't be afraid of trying new things. There's a well-known quote: 'Defeat is not the worst of failures. Not to have tried is the true failure'. I agree with it completely. Your dream may not come true immediately and in the way you expect it to, but your hard work and creativity will definitely be rewarded in the end!
Interview written by Tatyana Movshevich