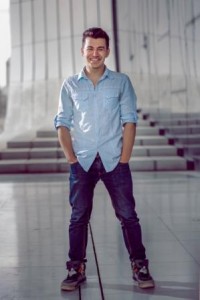 'The FLEX program gives us a truly global outlook. Having been influenced by two cultural traditions, we can now take the best from both and explore new ideas. Embrace your individuality and respect the differences of others!'
Kamran Latifov '12
Zagatala, Azerbaijan/Pasco, Washington
Education: BA in Marine Engineering from the Azerbaijan State Marine Academy (current)
Last year the singing competition known around the world, The Voice, was launched in Azerbaijan. Kamran Latifov took part in it and made it to the quarter-finals where he competed against some of the most respected performers in the country. Kamran has been performing for the past four years but was still surprised to achieve such great results:
'I couldn't even imagine that I would reach The Voice's quarter-finals. When I entered the competition, my goal was to get three TV appearances, but things turned out much better than I had expected,' he says. 'I am not a professional singer, that's why I didn't stake my life on it. For me the most important thing was to enjoy the experience and to have fun'.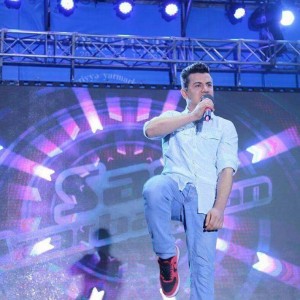 Kamran got involved in singing when upon his return from the U.S. he moved from his native town Zagatala to Baku. He didn't know many people in the capital and spent the first few weeks watching a lot of music videos on Youtube in his room.  'Many videos were covers of famous songs done by Azerbaijani young people, so I decided to try and sing them myself. I recorded a couple of songs in the kitchen, posted them on Youtube and somehow they reached the ears of a well-known rapper and producer Parviz Ramizoglu Isagov whose stage name is PRoMete. He liked how I sang, but was busy moving studios at the time and told me that he'd call back soon'.
Inspired by the positive feedback, Kamran continued recording song covers and soon attracted the attention of a few other producers. But eventually PRoMete got in touch as promised and they set up a meeting.  'I thought that he'd only want to do one or two recordings, but he said that he saw potential in me and offered to be my producer. As a teenager I listened to his music all the time and when PRoMete invited me to work together, I couldn't believe my luck,' remembers Kamran.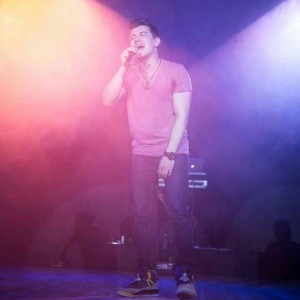 Over the last four years Kamran and PRoMete have released a few singles and music videos, which were broadcast on Azerbaijani State Television. Kamran's biggest breakthrough was the song Var Gucunle Vur which featured an iconic Azerbaijani folk musician Alim Gasimov. There and in other music videos Kamran uses a stage name Sailor. When the launch of The Voice was announced, PRoMete encouraged the young performer to participate. It was during the competition, that Kamran realized that music for him was more than a hobby for him. (More of Kamran's songs can be found here).
Yet as much as he enjoys performing, he recognizes that it's a risky path to take if you haven't got any other profession. After taking part in The Voice Kamran decided to become an engineer and has since been admitted to a Master's Program at the World Maritime University in Malmo, Sweden. There he will study Shipping Management & Logistics on a full scholarship provided by the Azerbaijan Caspian Shipping Company.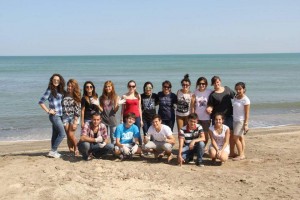 The scholarship was awarded in recognition of Kamran's active involvement in youth work and dedication to community service. He is a member of the global youth NGO AIESEC and worked in an organizing committee of a number of its conferences. Besides AIESEC work, Kamran together with a team of FLEX alumni took part in a number of clean up events throughout Azerbaijan.
The FLEX program has had a positive influence on Kamran's life in a number of ways. During the FLEX program he became more confident, motivated and open to different ideas. It has also given him the understanding of another culture, which changed his world view.
'I've always been interested in American music and cinema. Who isn't? But in the context of our traditions American rock and hip-hop seem a bit exotic. As a FLEX student I understood how the music reflects American lifestyle. Knowing both Azerbaijani and American cultures has helped me to produce songs and perform,' shares Kamran.
He believes that every FLEX alumnus is a mixture of at least two cultures and advises his fellow alumni to treasure this quality: 'The FLEX program gives us a truly global outlook. Having been influenced by two cultural traditions, we can now take the best from both and explore new ideas. Embrace your individuality and respect the differences of others!'
Article written by Tatyana Movshevich