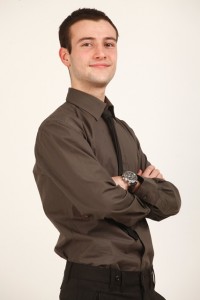 'Don't be afraid of being creative and experimenting with new projects. Some of your ideas may not work out – don't feel downhearted about it! Be active from morning till night and keep in touch with each other,' is Emil's message to the GHSEP and FLEX alumni communities.
Emil Kurbanov '11
Tbilisi, Georgia / Cumberland, Ohio
Education: Law Graduate from Tbilisi State University, Major in Private Law
Emil Kurbanov, entrepreneur, remembers back to the many meetings he and his parents took part in prior to his exchange to the U.S.  The heaps of information, the large application, discussions about host families and insurance, and reminders to visit the dentist before traveling to the U.S…  He left the meetings excited about the exchange, imagining all smooth sailing ahead.
Unfortunately reality intruded in the form of a toothache shortly after Emil arrived to the U.S. He was afraid to go to an American dentist so did not speak up at first. Eventually Emil's toothache went away on its own, but the experience wasn't forgotten.  Four years later, in June 2015, the Georgia High School Exchange Program* (GHSEP) alumnus together with his childhood friend George Andguladze founded a unique company called Dent Tourism in Georgia.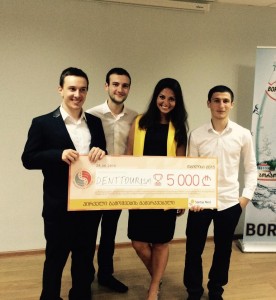 This ingenious enterprise provides a unique "twofer" (two for one) opportunity, since dental care in many countries is expensive. Dent Tourism invites foreigners to receive high-quality but deeply discounted dental treatment in Georgia while at the same time exploring all that the country has to offer. Emil and his team came up with this idea when they heard about the Startup Nest Competition conducted by the University of Georgia and decided to participate.
'During our research for the competition we found out that dental care is approximately 70-80 percent cheaper in Georgia, so we thought – why not come here and combine business with pleasure?' remembers Emil. 'We worked on the idea day and night. We made a website, did all the research and established contacts with the country's best dental clinics and a four-star hotel. We were so dedicated to the project that decided to go with it even if we weren't successful in the competition'. Within a month and a half the concept was fully developed and the project was ready to be launched.
Their efforts paid off.  On June 26, 2015 they found out that they had won the competition and received a start-up budget of 5000 Georgian lari (approximately 2200 USD). By that time the company's promotion campaign was in full swing and it didn't take long for the first customers to arrive.  'We turned George's living-room into our office.  From there we communicated with customers and clinics, arranged airport and hotel transfers, and organized tourist activities,' says Emil.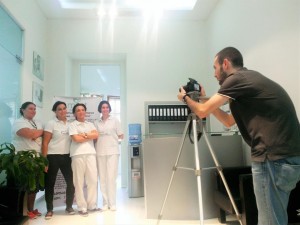 Since dental care is also expensive in neighboring countries, the majority of customers who fly to Tbilisi specifically for the service come from Russia and Azerbaijan; western tourists mainly refer to the clinic if they are already on holiday in the Caucasus.  That's why one of the main requirements for dental staff is to be able to communicate in English and in Russian.
'Dental treatment can be very painful, and we want to make sure that our customers receive as much support and are as comfortable in a dentist's office and in Georgia as possible,' notes the alumnus. 'The only thing we don't offer our customers is sweets, otherwise we'd get in trouble with the dentists. J That said, there's plenty of other tasty food to try in Georgia'.
The company uses the services of three dental clinics in Tbilisi, which are all showcased on Dent Tourism's website. In order to arrange an appointment each customer fills in an online form describing his dental issue and then selects between different treatment plans provided by each clinic within 24 hours. (A TV interview about Dent Tourism in Georgian can be found here).
To develop his entrepreneurial skills, Emil participated in a six-month entrepreneurship program called 'Feel the Power' organized by a local NGO Innovator's Base in Lithuania in 2015.  The program brings together young and motivated people who work on innovative solutions to problems in rural Lithuania. Currently, Emil is a mentor and shares his start-up experience with the participants and learns from other mentors and business leaders.
Tourism is not Emil's only project, however. At the moment he is setting up the first American farm in Georgia together with his father.  This business idea came out of his exchange year as well. Growing up in Tbilisi, Emil naturally never had a chance to do much farming work.  When he arrived to his host family's farm in rural Ohio, he felt as if he had entered a different universe.  'Life on a farm was very different from life in bustling Tbilisi, but I grew to really like it. I joined Future Farmers of America in my high school, extensively travelled with the group throughout the country and in just one year farming became an important part of my life,' he shares.
Emil was most impressed with American turkeys that were bigger than Georgian ones and resolved to introduce them to his country.  His host family is now helping him to find turkey eggs in Ohio. Once they are transferred from the U.S. to Georgia, Emil's host parents will guide him through the tricky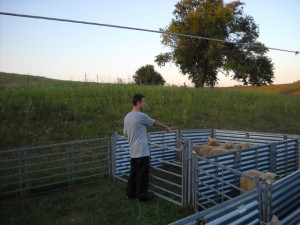 incubation process.  'My American parents share their expertise with me and I pass the knowledge on to my father.  The climate in Georgia is very different from Ohio and we need to be careful – every step of the way,' says Emil. He plans to keep the eggs in his apartment until poults are hatched and then move them to his family's nearby datcha (summer home).
On top of those ventures, Emil and his cousin are developing another start-up called MyDriver, which is a driving service for those who arrived to a party in their car and had too much to drink to drive home.  The goal of this start-up is to reduce drunk driving in the country by offering the services of a professional driver who takes customers home in their own cars.
Open to new ideas, Emil invites his fellow alumni to connect with him through Facebook and email. If you have ideas for joint projects or just want to get in touch with Emil, feel free to send him an email to emilkurbanov@denttourism.com.
'Don't be afraid of being creative and experimenting with new projects. Some of your ideas may not work out – don't feel downhearted about it! Be active from morning till night and keep in touch with each other,' is Emil's message to the GHSEP and FLEX alumni communities.
 Article written by Tatyana Movshevich
* Georgia High School Exchange Program (GHSEP): A program funded by the Ministry of Education and  Science of Georgia (MoES) and administered by American Councils for International. GHSEP awarded scholarships to 100 competitively selected high school students from Georgia in 2010 and 2011. Similar to the FLEX program, GHSEP aimed to strengthen mutual cooperation and understanding between the youth of Georgia and the United States of America.