By Mariam Oniani '19 (Tbilisi, Georgia, placed by PAX in Othello, WA) 
Are you ready to enhance your intercultural and professional skills this summer? The Alumni Internship Program has helped more than 20 FLEX alumni from Georgia develop professional skills through participation in professional development training and networking with global-minded peers, and the program is open to alumni from all FLEX countries, as well as YES alumni from Southeast Europe and Senegal! I highly encourage all alumni to take the opportunity and apply for this program by April 15 at ais.americancouncils.org/alumniinternship. 
If you feel unsure about your level of preparedness or the program's requirements, don't worry! Former successful interns from the Georgia alumni community are here to support you. We've connected with Nino Okroadze '18, Ana Kereselidze '22, and Diana Rogava '19 to share their firsthand experiences and answer frequently asked questions.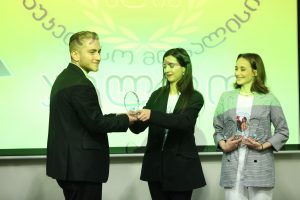 Q: Which skills have you developed by participating in the Alumni Internship Program?  
Nino: I interned at a local NGO, Helping Hand, and this was my first-ever work experience. I worked in various positions within the organization, which contributed to my multidimensional development. My hard skills improved as I gained knowledge in project management, social media marketing, reporting, and data analysis. Additionally, I worked on interpersonal skills, time management, critical thinking, creativity, and out-of-the-box thinking. My experience was so fruitful that Helping Hand hired me for a few additional months to participate in their social awareness campaigns, which I highlighted in subsequent job interviews. 
Q: How have these newly acquired skills helped you to advance in your career? 
Nino: This experience proved to my next employers that I am serious about anything I put my mind to. By demonstrating the skills that I gained in my internship, I became a competitive candidate for my new job at Caucasus University Medicine School as an English-Speaking Manager for international students.  
Q: What would be your advice for prospective candidates? 
Ana: I worked as an intern for American Councils Czechia. This internship is a fantastic opportunity to get familiar with a multicultural workforce and get off on the right foot with your professional life. If you're applying for this internship, I imagine you are very motivated to get selected and then be a part of a talented team, so make sure you show that. Take time with your application. Think about what motivates you, what your passion is, and how this internship will affect you as a person. Only after doing so, fill out the application. As cliché as it might sound, be yourself!  
Q: What can make the alumni's applications stand out more, Diana? 
Diana: Having worked as an intern at the American Councils Hungary Office and currently at UNICEF Hungary, I recommend conducting thorough research on the organization you're applying to. Make sure to read about their core values, activities, and work, and identify areas where the company could improve. For instance, if you're applying for a social media role, check their social media outlets and brainstorm ideas on how you can enhance their reach and engagement.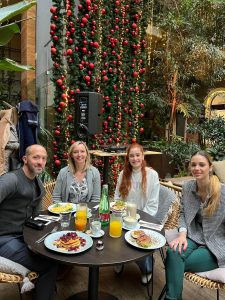 While it is crucial that the organization is a good fit for you and that you're eager to take on the new role, it is equally crucial to ensure that you are a good fit for them. Emphasize the relevant skills required for the position and avoid merely mentioning personal qualities and leadership skills. Instead, demonstrate your characteristics by sharing more about the work you've done and the experiences you've had, including quantitative and qualitative details about the number of people you engaged, and the tools you utilized. Alternatively, you might not have a plethora of experience, but being a flexible and curious learner is equally valuable. Ensure that you demonstrate your enthusiasm, excitement, and willingness to learn in your application. Most importantly, believe in yourself!  
Don't miss the chance to develop your skills and gain valuable hands-on work experience. Apply for the Alumni Internship Program today! 
Featured alumni: 
Nino Okroadze '18 (Akhalkalaki, Georgia, placed by World Link in Ankeny, IA) 
Ana Kereselidze '22 (Tbilisi, Georgia, placed by PAX in Flagstaff, AZ) 
Diana Rogava '19 (Tbilisi, Georgia, placed by World Link in Ankeny, IA)