By Mariam Oniani '19 (Tbilisi, Georgia / Othello, WA)
It was not until her exchange year in the U.S. that Tinatin Khasia '10 (Zugdidi, Georgia / Lincoln, NE) discovered her passion for art. Twelve years later, FLEX alumni from around the world wrote beautiful FLEX Appreciation Day messages on cards designed by Tinatin for members of their host communities.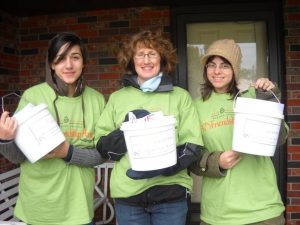 Tinatin is now a research professional with a master's degree in Business/Corporate Communications from the Università Cattolica del Sacro Cuore; however, painting stills holds a special place in her heart. Tinatin was first introduced to drawing techniques by her American art club teacher and reflected on this full-circle moment during the FLEX Appreciation Day Celebration, saying: "the opportunity of living independently in another country was both challenging and rewarding. Adapting to a new environment is the best way to learn more about our desires and become more open-minded to diverse people, cultures, and viewpoints. The FLEX Program inspired me to get a master's degree abroad and promote the gifts of international education among my networks."
In the U.S., Tinatin's art club teacher gave students a lot of freedom, which gave her opportunities to express herself through various techniques. When she began experimenting with the mesmerizing powers of different painting styles in her art club, she started viewing art as a form of therapy. Painting is still a hobby for Tinatin, and, despite her interest, she hasn't received any professional training in the field of art. However, due to her friends' encouragement, Tinatin created an art page on Instagram and developed an audience. For most of her artwork, Tinatin uses oil on canvas or a mixed technique combining watercolor and ink on cardboard. "My artwork usually does not focus on anything specific," Tinatin explained. "I am more determined to express emotions and concepts."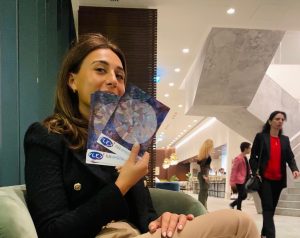 Inspired by her thankfulness to the program, Tinatin devoted approximately one month to creating the painting that ultimately appeared on the FLEX Appreciation Day postcard, focusing on small details which evolve around the concepts of unity, diversity, remoteness, closeness, and positive emotions. "Being a FLEX alumna is a great privilege and honor," said Tinatin. "I love that despite changing times, meeting my fellow alumni always fills me with pride and positive emotions."
Tinatin created the painting on a 35 x 30 cm piece of cardboard and used the mixed watercolor and ink technique. According to Tinatin, the painting depicts both remoteness and nearness, since the beginning of an exchange year can be challenging due to homesickness, while soon students realize that they've found a second home across the globe. The fact that the painting is dominated by the blue color was, of course, inspired by FLEX.
"Since I view art as my hobby, having my painting chosen for the card was surprising and exciting. Even today, looking at the card still fills me with happiness." At a senior alumni reunion in June, Tinatin kindly gifted the original FLEX Appreciation Day painting to the American Councils office in Georgia. The exquisite tones and interconnected details of the abstract painting proudly represent the mission of FLEX: fostering and respecting the beauty of diversity.
——–
Help us identify the next FLEX Appreciation Day Card artist!
The time for choosing the next artist for the FLEX Appreciation Day card is right around the corner. Please fill out the FLEX Artists registration survey if you are interested in having your art featured on next year's FLEX Appreciation Day card!