After realizing that COVID-19 was not only a threat to the health of Georgians, but also an economic and social threat, FLEX alumni, Ketevan Chachava '05 (Tbilisi, Georgia/New Tripoli, PA), Luka Kurdghelia '11 (Tbilisi, Georgia/Alexandria Bay, NY), and Giorgi Kvrivishvili '05 (Tbilisi, Georgia/Keeseville, NY), decided to help out by founding the charity organization, You Creator (შემოქმედი in Georgian) in partnership with local NGOs: Sector 3 and Endowment Prodemos. All having extensive professional experience in civil society development, the three alumni realized that they could utilize their skills and networks to generate a positive impact in their local community during these difficult times.
The first activity that they organized as part of You Creator was a solidarity applause, like the one organized in the United Kingdom, to show appreciation to frontline healthcare workers. On March 18, businesses, organizations, and millions of people across the country joined the campaign by stepping outside and applauding for healthcare workers. Videos of the event went viral on social media platforms. The three alumni had no clue that the event was going to be so popular, but its success gave them the motivation to continue their work and create something more impactful and important.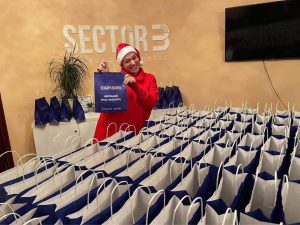 The coronavirus pandemic posed numerous challenges to Georgia, including the closure of businesses and institutions, which left marginalized groups of people without an income. As a result of these closures, education was moved online, causing additional problems for those with limited computer and internet access.  To combat these problems, Ketevan, Luka, and Giorgi started to raise funds by reaching out to their connections in different sectors across the country. They fundraised through many channels – seeking donations from grocery stores, publishing companies, artists, and big corporations; they organized yard sales, food drives, and online auctions. Through their efforts they managed to get over 100 large and small businesses to donate to the cause.
By the end of 2020, You Creator had handed out essential grocery packages to 250 students from Abkhazia, assembled 200 support packages for large families who are still recovering from the August 2008 War, handed out candy to over 2,000 children for the New Year's holiday, and collected over 1,000 kilograms of food for stray dogs and cats. The three also applied for a FLEX Alumni Global Youth Service Day grant and with the support of the program they were able to cover various costs for their events, such as transportation.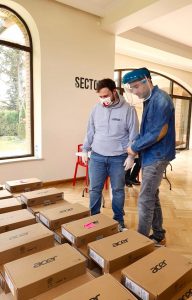 In addition to providing local communities with necessities, You Creator helped families in rural areas of Georgia get computer and internet access.  The team hand out 200 computers, tablets, and mobile hotspots that were donated by a local company. The team, through this project, also worked with an internet service provider that pledged to provide free internet access for over a year for 1,000 families in need.
Outside of community development work, Ketevan, Luka, and Giorgi also wanted to aid with the medical response to COVID-19. They implemented a small grants program to help fund radio stations in rural areas of the country so that they can provide correct information to listeners regarding the pandemic, while also combatting disinformation within the community. They also mobilized a group of volunteers, to help the Ministry of Health of Georgia answer over 12,000 COVID-19 hotline calls.
Ketevan, Luka, and Giorgi made a positive impact across Georgia through the creation of You Creator and the implementation of its projects. They have received recognition on major national television networks and across social media networks for their work. Despite their tremendous success over the past year, they are not finished yet – they are still raising funds to further contribute to the society and help those who need it the most.
Written by Giorgi Kakabadze '17 (Tbilisi, Georgia/Des Moines, IA)