By Mariam Oniani '19 (Tbilisi, Georgia / Othello, WA) 
Eleven volunteer City and University Representatives in Georgia have implemented over 170 events in eight months and successfully adapted to virtual settings during the COVID-19 pandemic. To highlight their sustained countrywide impact and inspire you to implement initiatives in your local communities, I decided to share the following project ideas with you: 
Fundraisers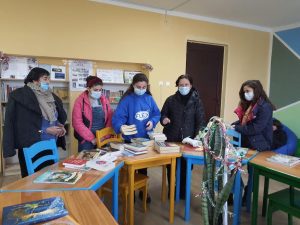 Luka Bluashvili '19 (Tbilisi, Georgia / Belleville, IL), a former Alumni Coordinator, teamed up with four City Representatives in December 2021 to gather donations for underprivileged families from Otobaia, a village in the occupied region of Abkhazia, Georgia. The team managed to collect 15 bags of clothing and $160 to purchase books for the village's school from over 70 donors. 
"I can hardly describe what I felt after seeing the happy smiles of the children we helped. After I gave one of them a schoolbag, she told me that she would go to school every day," said Nino Patsuria '21 (Otobaia, Georgia / Kingsburg, CA), who was a City Representative of the Month for December 2021 and who delivered the donations to families in need.  
In March, City Representatives decided to collect humanitarian aid in Akhaltsikhe and Rustavi to help Ukrainian refugees. Diana Narimanidze '18 (Rustavi, Georgia / Kenai, AK), who was a City Representative of the Month for March 2022, collected items worth almost $1,000 with the help of roughly 90 community members. Diana shared the secret to her success. 
"Teamwork, collaborating with my fellow alumna Mariam Aliashvili '19 [Rustavi, Georgia / Manvel, TX], made the dream work. Keeping the goal of helping the ones in need motivated us not to give up despite facing multiple setbacks during the implementation phase," Diana said. 
Clubs, Clubs, Clubs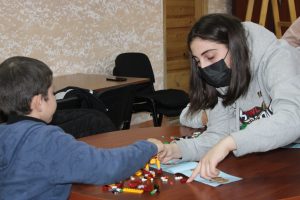 City Representatives established four clubs in different regions of Georgia that aimed to help youth develop their critical thinking, communication, and teamwork skills. For instance, Tamuna Gegelashvili '20 (Gori, Georgia / Tallmadge, OH), who was a City Representative of the Month for February 2022, was inspired by her exchange year to initiate a Lego Club and host weekly sessions for war-affected children in Gori. Tamuna shares why you should consider establishing a club to increase the impact of your work. 
"Establishing a club is a more sustainable approach to giving back to your society because it not only provides participants with knowledge but also a safe space and sense of belonging, which results in gaining lifelong skills and friends in the long run," Tamuna said.  
Cleanups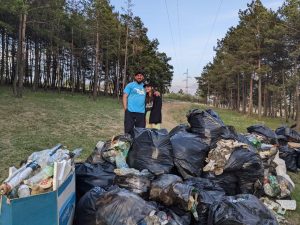 Georgian volunteers were eager to raise awareness about environmental problems and organize cleanups in the frameworks of World Cleanup and Global Youth Service Days this year. In April, City Representatives cleaned the Vakhtang VI Street in Tbilisi, adopted by FLEX, and brainstormed ideas for informational sessions that were held in celebration of Earth Day. Salome Gvirjishvili '20 (Akhaltsikhe, Georgia / Butler, PA), who was a City Representative of the Month for April 2022, also mobilized 20 volunteers in Akhaltsikhe, who managed to collect 200 bags of trash and were thanked for their efforts by local media.  
"All of us are responsible for finding solutions to environmental problems, so we need to act, set a good example for the community, and be more active," Salome said. "The City Representative position helped me understand these responsibilities, motivated me to do more good deeds, and contribute to the development of my country." 
Why should you consider becoming a City Representative next year?  
As has been anonymously quoted, "Because you vote in elections once a year, but when you volunteer, you vote every day about the kind of community you want to live in." 
Thank you to all City and University Representatives in Georgia and across all FLEX countries for your hard work, passion, and enthusiasm!