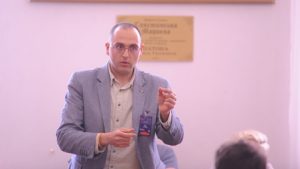 Igor advises FLEX alumni to value people's individuality above social, economic or religious factors. 'Be yourself and don't buckle under social pressures! Don't only do or say what's socially acceptable in your community. We, FLEX alumni, are the best advocates of intercultural communication and we should deconstruct the arguments that are used against individualism
Igor Zlatojev '07
Petrovac na Mlavi, Serbia/Kenton, OH
Education: BA in Political Science, Minor in History (University of Mississippi); Specialization in the Balkan and Eastern European affairs, conflicts, and post-communist development
Igor Zlatojev '07 describes his exchange year as 'the mind-altering experience,' which made him the person he is today. While in the U.S. he started thinking about how poverty impacts communities and built a strong work ethic based on respect, critical thinking, and effectiveness.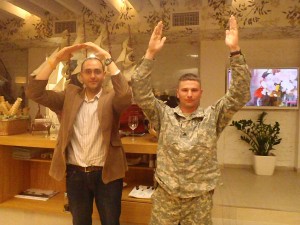 'During my exchange year I also faced an identity issue. Who was I – a Serbian, a European, or an Ohio student? Figuring out how I fit in made me want to contribute to the Balkan communities,' says Igor. This interest never faded away and it has driven him, nearly a decade later, from March 2015 until March 2016, to implement a large community project titled A Violence Free Future (VFF) in rural Kosovo.  Funded by the U.S. Embassy in Pristina, VFF was the result of partnership between Rotary Club Prishtina International  (of which Igor is a member), the IPKO Foundation, the Active Change Foundation as well as several other NGOs, high schools, and universities across Kosovo.
The idea of the project came during the winter of 2014 following a broad social understanding that a coordinated response to counter violent extremism was needed. 'In autumn 2013 two LDS Church missionaries were attacked by Muslim fundamentalists while at the same time a number of young people from rural areas ran off to fight in Syria,' remembers Igor. 'It prompted the debate on what needed to be done. The U.S. Embassy endorsed a project centered on the issues of violent extremism and radicalization and I became the VFF manager'.
It was challenging to get the project off the ground. Igor didn't know what to expect and was worried that the local communities wouldn't be interested in the initiative.  But when 180 teenagers (instead of predicted 60) came to the first workshop, the FLEX alumnus knew that the topic they had chosen was extremely relevant for many young people in Kosovo.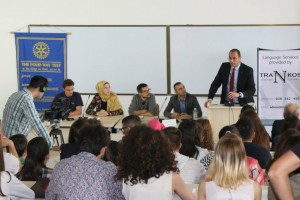 'Once we were in the field, we realized that the problem of radicalization was graver than we had expected and were amazed to see how eager young people were to discuss the topic. For many it was their first opportunity to express their concerns and ask questions,' says Igor.
The FLEX alumnus stresses that in the Balkans religious fundamentalism is not necessarily connected with Islam, it also exists in Christian communities. 'Historically our region has always been extremely intercultural and people of different religions got on very well. Now the communities are getting polarized and the social geography begins to change. Although ethnic conflicts occur, every conflict has a broader dimension and never reflects only religious lines'.
The two main objectives of the project were to provide young people with a safe space to discuss their concerns and to receive an insight into how teenagers across Kosovo feel about the dangers of radicalization. Igor believes that combating extremism is only possible through fostering community trust and open dialogue. That's why a special emphasis was placed on encouraging young people to volunteer.
The project consisted of seven workshops, a film festival and a social media training, all of which took place in various areas of Kosovo. Each workshop started with a plenary where rather than giving lengthy presentations, respected community leaders engaged in an open discussion with the participants. The plenaries were followed by the outdoor activity Play2EDUCATE implemented by Gena Sturgon with the help of a peace support operation KFOR. During Play2EDUCATE students learned about community marginalization by playing soccer. In this version of the game one team was allowed to play normally and the other had to communicate in English and keep their hands behind their backs.  'Marginalized or poor communities are much more susceptible to radicalization than affluent ones. Through this activity we wanted to show what marginalization is and how easy it is to win over people who are at a disadvantage,' notes Igor. Another important activity was a training on the psychological process of radicalization led by a well-known UK specialist Mike Jervis from Active Change Foundation.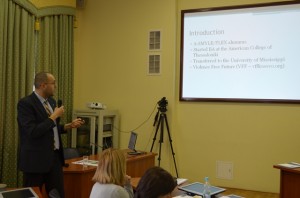 In total, 500 young people took part in the VFF project and most of them came from closely bonded small communities. As a result, numerous rural communities (some of which are isolated) were reached and many project participants are now developing follow-up activities and creating social media pages in order to share their knowledge with classmates.
Since it was possible to economize on certain costs, the organizers spent the remaining budget on renovating a basketball court in Kaçanik with local youth and donated the rest of the money to the  Çifti Bujçinca Foundation in Kosovo, which sends girls from disadvantaged families to high school.
Seeing the impact of VFF, Igor is now discussing the possibility of a new project with VFF'S partners. His dream is to implement similar workshops in Albania and across the region.  He is currently sharing his VFF experience at international conferences and trainings in eastern Europe. He has recently been granted a partial scholarship for a MA Course in European Studies from the University of Leipzig and is currently looking for additional funding opportunities.
Besides his involvement in VFF, over the last two years Igor has been working as a Senior Interpreter in a translation company TRANKOS Consulting. His responsibilities there include translating and interpreting from Serbian into English and from English into Serbian and reaching out to potential partners internationally. Used to thinking in a few languages and living in a multi-ethnic community, Igor advises FLEX alumni to value people's individuality above social, economic or religious factors.
'Be yourself and don't buckle under social pressures! Don't only do or say what's socially acceptable in your community. We, FLEX alumni, are the best advocates of intercultural communication and we should deconstruct the arguments that are used against individualism,' says Igor.