By Nikola Brkljac '17 (Belgrade, Serbia / Austin, TX) 
After her return from the United Stat es, Anđela Jovanović '17 (Užice, Serbia / Milladore,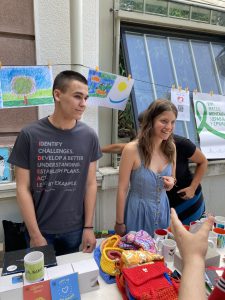 WI) felt called to study psychology with a focus on mental health. Because psychology was not a subject offered to Anđela in her high school in Serbia, she grew passionate about the subject in her AP psychology class while on her exchange in the United States. Almost five years later, on August 21, 2022, Anđela, along with Neda Kaluđerović '19 (Kraljevo, Serbia / Lawrenceville, GA) and Lazar Radivojević '20 (Mladenovac, Serbia / La Grange, KY), organized a project through the IDEAL Workshop Projects Program in collaboration with one of the most prominent non-government organizations in Belgrade, Prostor, which focuses on social and human rights issues related to mental health.
The IDEAL Workshop is an annual international event that gathers FLEX and YES alumni from Southeast Europe to develop knowledge, skills, and experience in areas selected by alumni themselves. IDEAL is an acronym for the program's aims: to help alumni "identify challenges; develop a better understanding; establish plans; act; and lead by example." Anđela participated in the IDEAL Workshop in 2022, when the program themes were mental health; public health and public opinion; environment; and peacebuilding.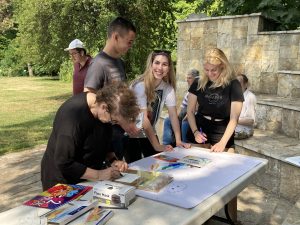 The IDEAL Workshop provides participants with the resources and knowledge they need to conduct post-workshop projects. The opportunity to participate in the IDEAL workshop gave Anđela an ideal (pun intended) opportunity to combine her two passions – psychology and the FLEX alumni community – and to execute her dream project.
Throughout her studies, Anđela volunteered with Prostor. Prostor works with people who experience mental health struggles and has a team of volunteers trained in art therapy: an innovative way of combating issues and mental health stigma through drawing and doodling. With the help of two fellow alumni, Neda and Lazar, Anđela organized an intensive course on art therapy for eight other alumni, who then volunteered to support art sessions hosted by Prostor.
These sessions resulted in an art exhibition held in the Jevremovac Botanical Garden in Belgrade on August 21, where about 30 attendees had the chance to buy art pieces created by Prostor's users with alumni support. The team of alumni exhibited about 28 art pieces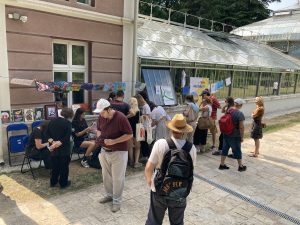 for about five hours, with subjects including pets, landscapes, fruit, friends, and family. All the funds collected from the exhibition, approximately $310, were donated to Prostor to support future activities. Alumni even had a small interactive section in the Jevremovac exhibition where attendees, including children, could draw, too!
By organizing this event, the alumni supported their local civic sector and the values they stand for. After working with and supporting people who experience mental health issues, Anđela, Neda, and Lazar are even more convinced of the importance of this cause.