Becoming a FLEX alumna/us opens a lot of doors. The FLEX program is not just about learning about American culture or improving your English; it is about meeting incredibly talented people with whom you can collaborate later in life. Do not miss this chance – use your FLEX experience in a creative way!
Over the course of eleven years since my return from the U.S., I have met FLEX alumni nearly everywhere I went – in London, New York, and Bangkok; on planes, city buses, and tuk-tuks. I'm used to it now – knowing what a wide range of careers and interests our ever-growing FLEX community has.  Yet I was still surprised when, having arranged an interview with freelance journalist Yekaterina Kuznetsova '07 via Facebook, I met her at the European Parliament just a few days later, says fellow journalist and author of this article, FLEX alumna Tatyana Movshevich '04.  As an attendee of the European Youth Media Days on the topic of 'Media Freedom in Europe and Its Neighborhood' organized by the European Youth Press (EYP), I met Yekaterina Kuznetsova '07, organizer of the event and an EYP board member.
Yekaterina Kuznetsova '07
Rostov-na-Donu, Russia / Williston, FL
Education: BA in Broadcast Journalism from the University of Leeds, UK, MA in Human Rights and Democratization from Yerevan State University and Belarusian State University (Program financed through European Commission)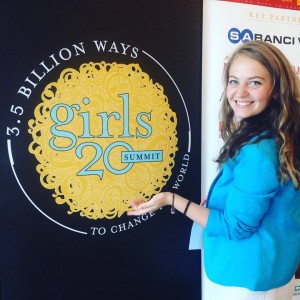 Discovering the EYP in 2012 had a huge impact on Yekaterina's professional growth. A soon-to-be graduate of the University of Leeds with a degree in Broadcast Journalism, she lacked the most important asset of a media professional – an international network. She found the EYP network.  Attending her first EYP event in Brussels, Yekaterina met journalists from all over Europe and was immediately inspired.  A year later she submitted her documents to become a board member and was voted in.
'Just like FLEX, EYP attracts open-minded talented people. In the case of the EYP these are journalists who are interested in working on international issues collaboratively. The FLEX program has had a huge impact on my future career. During my FLEX year I understood how exciting it is to have friends from all over the world and decided to keep the international life going,' says Yekaterina.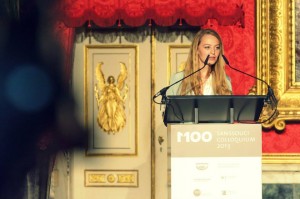 She has most certainly succeeded in keeping on the international life!  From October-November 2015 Yekaterina traveled to Belgium, Latvia, Spain, Turkey, Hungary, Germany, Kenya, and France where she attended conferences and media events. 'This is a life of a European freelance journalist now. I don't have a steady income or contract, but I travel to different countries every month. I love being a part of the EYP network and contribute to making Europe more inclusive and free,' she says.
Among her other career highlights are working for NBC during the Sochi Olympic Games and for BBC One Show as researcher in May 2013. Over the past three years Yekaterina has also taken part in a number of media projects with other freelance journalists across Europe.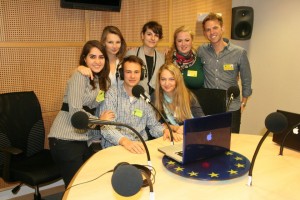 Having graduated from the MA program in Human Rights and Democratization sponsored by the European Commission, Yekaterina is keen to get involved in human rights and civil society movement alongside her journalistic work. In September 2015 she was selected to participate in the 6th G(irls) 20 Summit that took place in Istanbul in the run up to the annual G20 Summit.
Introduced by the Clinton Global Initiative, G(irls)20 is a globally active organization that promotes the ideas of gender equality and female leadership.  Throughout the course of the September summit Yekaterina presented the problems that women in Russia face and discussed ways to solve them. Together with 24 women from all over the world she compiled the 2015 Communique to G20 Leaders and prepared a video where the summit participants gave advice to G20 Leaders.
In order to be selected to the 6th G(irls) 20 Summit Yekaterina came up with her own project on gender equality.  After the event she was encouraged to develop her initiative with the help of a mentor. Yekaterina focused her work on single mothers in Russia who often lack basic professional support.  Her mentor Ellen Pinchuk, deputy CEO of a leading communications consultancy Mikhailov and Partners, helped her to set up meetings with companies and NGOs. As a result of these meetings Yekaterina aspired to create a digital platform for ten selected women who would receive career mentorship and share their experiences through social media.The project is currently in the development phase.
'Being a single mother in Russia often means that you need to find a husband to provide for your children as quickly as possible. Through this project I want to draw the public's attention to the struggles that these families face and the need for professional development among this group of young women.  I do hope that the mentorship will help them succeed in their careers,' she says. Yekaterina's article about her project was published in the Huffington Post.
Yekaterina would also like to focus attention on the needs of those with disabilities in Russia.  After attending the Special Olympics in the U.S., last summer she was inspired to launch a program to connect athletes from the Russian Special Olympics team with school children, so that together they could train for competitions and promote disability rights in schools. Yekaterina has already discussed her idea with Special Olympics Russia and at the moment is researching funding opportunities.
Using her European media networks Yekaterina will ensure international media coverage for both projects.  These projects are in the early stages of development.  If you would like to get involved or contribute your ideas to Yekaterina, send an email to e.kuznetsova26@gmail.com.
'Our society still remains unequal and there is a lot that needs to be done in terms of inclusion of vulnerable groups. If everyone in Russia feels valued and protected and has access to education and work, the country will be more stable and prosperous and people will be happier. Through my projects and journalistic work I'd like to continue working on the topic of equality,' says Yekaterina.