"Roman will continue reforming the system on a state level, however, he believes that real change is always brought by grassroots initiatives"
Roman Fishchuk '04
Ivano-Frankivsk, Ukraine/ Lancaster, Pennsylvania
Education: MSc (Master of Science – University College London), MD (Medical Doctor- Ivano-Frankivsk National Medical University).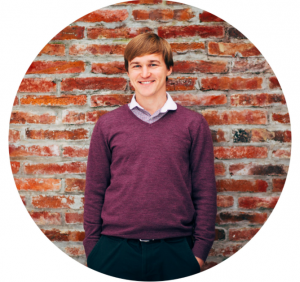 When Roman Fishchuk returned from his Master's program in the UK in September 2014, he saw the existing problems in the Ukrainian healthcare system with fresh eyes and developed a new strategy to solve them.   He started by single-handedly opening an innovative hearing center at the Ivano-Frankivsk National Medical University as a part of his two-year clinical fellowship.  The center has all of the modern diagnostics and treatment equipment, unique to the region, after being donated to the center by international charities. Medical services are provided to patients completely free of charge. Media coverage about the center can be found on Roman's youtube channel.
It took Roman only a couple of months to establish the center from scratch yet it wouldn't have been possible without long years of preceding medical training and networking which went all the way back to his U.S. experience.  Every piece of technology in the center has its own success story. 'These two devices in the corner were presented to me by Sound Seekers, for which I volunteered first in London and later in Gambia,' through the Skype camera Roman shows the equipment behind him. 'I shared my vision of establishing a modern hearing center in Ukraine with them and they decided to get on board'.
While in Gambia Roman provided medical services to patients from rural communities and gave lectures to medical staff at the hospital where he was based.  He raised funds for that trip independently using his Chevening scholarship allowance and through support from private donors. His flights were paid by the founder of the European Lacrosse Federation Peter Mundy: 'I learned this game when I lived in the U.S. and brought it to Ukraine. Later the European Lacrosse Federation sent us some equipment and since then I've been in touch with Peter. So. when I told him about my plans to go to Gambia, he offered to help'. It all circles back to effective networking.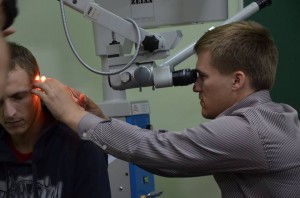 The microscope was given to the center by another charity, the Global ENT Outreach. 'The head and founder of the organization, Dr. Richard Wagner has been giving me support and advice for the last four years. When I was in the process of establishing the center, he found out that one of his Italian partners had a spare microscope and offered it to me'.  In June this year Dr. Richard Wagner visited the hearing center for the third time. Together with Roman he performed 30 surgeries in six days.
As important as modern equipment is, Roman believes that communication with the patient is critical. Each initial appointment lasts an hour giving Roman enough time for a thorough examination and a follow-up chat with a patient. Such attentive care has brought great results; over the last six months the center has attracted over 250 patients from different regions of Ukraine and gained considerable recognition in the country.
In the nearest future the center plans to open a hearing screening program for newborns and adults, which will monitor hearing problems at an early stage and diagnose an ability to hear in patients with sudden hearing loss. Common in developed countries, screening it is not yet done in Ukraine.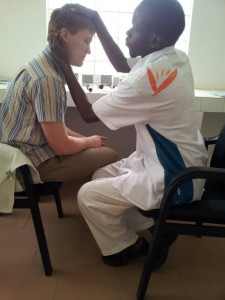 The success of Roman's project confirms his belief that healthcare in his country requires a great deal of modernization: 'We have too many doctors in hospitals. They often lack working hours and, as a result, proper training. We don't have a national register and therefore lack a full overview of the medical sector. I think we need to optimize the number of specialists in each specific area and train everyone better and longer'.
Roman's FLEX year was a 'mind-changing experience' that made him recognize the importance of exploring opportunities for himself and for people around him. Inspired by his studies in the U.S., during his university years Roman became the first Ukrainian to join the European Medical Students Association and initiated educational exchanges between Ukrainian and other European students. He was later elected to the Executive Board as Medical Science Director.
Roman is now negotiating the expansion of the center in two locations with the university and a local state hospital. Yet his own professional future is uncertain as at the moment he is waiting to hear about another exciting prospect – he has been shortlisted for the position of Deputy Health Minister of Ukraine.  In the case that he is chosen, Roman will continue reforming the system on a state level. However, he believes that real change is always brought by grassroots initiatives and hopes that in the future the alternative systems where he is working now will become mainstream.
'When I see parents of a deaf child using all their efforts to find the right treatment and I know that everything in their lives depends on healthcare politics and bureaucracy, I feel extremely annoyed at the current state of affairs in the country's healthcare. People must have choices, but the choices should be between good and excellent rather than poor and none at all,' says Roman.
Article written by Tatyana Movshevich