Vakhtang (Vako) Imnaishvili '05
Batumi, Georgia/ Paso Robles, California
Education: BBA Degree in Marketing from Tbilisi State University; Completed courses in Economy & Political Science (Georgetown University) and Gamification (the University of Pennsylvania)
Profile written by Tatyana Movshevich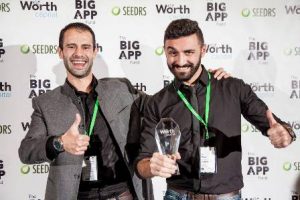 In October 2014 the company UKADEMICS founded by Vako Imnaishvili '05 won first prize in the Big App 2014 competition and was granted a £ 150,000 investment.  Vako's idea of 'Booking.com' for students applying to universities abroad was refreshing for the panel of judges, among which were a famous teenage app developer Ted Nash, Facebook executive Adam Harrison, and author of How to Build a Billion Dollar App George Berkowski. The results of the competition, for which nearly 150 pitches were submitted, were announced at the Facebook Headquarters in London. During the next three years Worth Capital, which has become one of UKADEMICS' shareholders, will be running a mentorship program for the company.
The idea to participate in the Big App competition, organized by Facebook and Worth Capital with an aim to find the best upcoming mobile application, came when UKADEMICS moved from laptops to mobiles. Since many young people these days access the internet through their phones, Vako's ambition is to allow graduates to submit their university applications that way as well.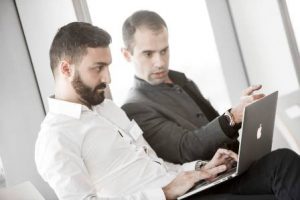 The story of Vako's success goes all the way back to his FLEX year during which he met his future business partner, Portuguese exchange student Andre Rosendo. After Vako returned to Georgia he worked for a number of organizations before eventually moving to Portugal.  While in Georgia, he was an active FLEX alumnus and citizen, participating in three OSCE election observation missions, teaching at a FLEX PDO, and later joined Georgia's Ministry of Education and Science as a training manager. However, three years ago Vako received a call from Andre who was then setting up a student agency called OK Estudante, and invited him to join the new business as a marketing manager. 'I said yes right away – quit my job, sold my car, and went off to Portugal. OK Estudante at that time was very small, it was just Andre, his girlfriend and me, but in the following years we took the business to the next level and expanded,' Vako shares. Since the aim of the company is to provide support to Portuguese students who are interested in studying abroad, Vako's FLEX experience proved to be extremely useful: 'A lot of my knowledge about studying abroad came from FLEX, as I have been through the process, first as an exchange student and then being involved in the work of American Councils'.
Understanding the difficulties that many students face who try to study abroad inspired Vako to come up with a solution. He decided to change the university enrolment system by creating an online platform, where students are able to search and apply to universities. 'I know how painful a process of looking for a university in a foreign country can be.  After my FLEX year I wanted to continue my studies in America, but the application process was not adapted for international students. Eventually, despite having good high-school grades, I had to give up. The problem with university systems all over the world is that they are quite rigid and difficult to change. Since universities need international students and we are creating a solution for both sides, our hope is that many will follow the trend'.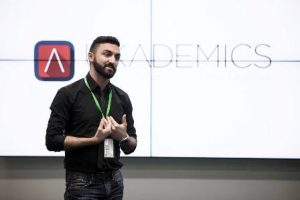 To make UKADEMICS a trend – a lot of work that needs to be done. Vako realizes that convincing universities might not be easy and that most universities will be skeptical about the idea until they see results.  At the moment Vako and Andre are working on expanding the list of UK institutions that are interested in establishing partnership with UKADEMICS, with the plans of adding American and Australian colleges in 2015.  So far already have 20 British universities are working with them. 'The UK is ahead of all other countries in a sense that it has already got their own Universities and Colleges Admissions Service (UCAS) system. Still, it is so complicated that, in order to understand it, many British high-school students need to take special courses.  In the meantime, foreign students simply don't use it. Since UKADEMICS is easy to get your head around and at the same time adapted for other countries, it will allow international students to get into British universities using their academic qualifications.' The new features of the website include such sections as student satisfaction, employability and even average graduate salary, the data for which comes from the UK Higher Education Statistics Agency (HESA).  Alongside academic requirements, UKADEMICS also provides important information about accommodations, funding and visa processes, while 24-7 customer support services guide users through the process individually.
Vako's biggest dream is to 'disrupt' the university system by making it more democratic: 'At the moment the system is completely obsolete as it still functions the same way it did back in the 12th century.  I believe that university education should be open to everyone, but unfortunately many universities, like Cambridge and Oxford, are still seen as inaccessible and elitist. Getting into a good university should not be a gamble.'
In closing, Vako believes that his FLEX year revolutionized his world view, while the FLEX alumni program provided him with useful connections and inspirational ideas.  'Become friends with other FLEX alumni, because many of them are progressive-thinking and hungry for new ideas and success. Having the FLEX network can be an invaluable contribution to your future achievements. It's also extremely important to be kind. Some say 'Nice guys finish last'. That's completely not true. If you are nice, hard-working and positive, great things will happen to you,' Vako advises other FLEX alumni.