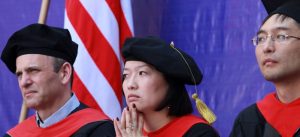 Bermet Tursunkulova '94 (Bishkek, Kyrgyzstan / Frederick, MD) was recently appointed Deputy Minister of Education of Kyrgyzstan.  Prior to her new appointment, she served as the Vice-President of Academic Affairs at the American University of Central Asia, Bishkek, where she managed academic affairs, curriculum development, and student enrollment. Read more here.
Bermet has maintained strong ties with American Councils, marked by her support of the U.S.-Central Asia Enterprise Fellowship (U.S.-CAEF) program. The U.S.-CAEF program provides business education scholarships for academically gifted students who, due to financial hardship, would otherwise not be able to pursue a university education. At the American University of Central Asia, Bishkek, there are currently 59 fellows receiving support from this program.
With a long career trajectory of supporting Kyrgyz higher education, American Councils and the FLEX Program wishes Bermet well in her new position and commends her exceptional dedication to improving education in Kyrgyzstan.