By Vladlena Magay '07 (Tashkent, Uzbekistan / Lucas, IA) 
When it comes to incredible entrepreneurial skills and ongoing self-improvement, Ibrokhim Hurramov '04 (Samarkand, Uzbekistan / Sultan, WA) is worth mentioning.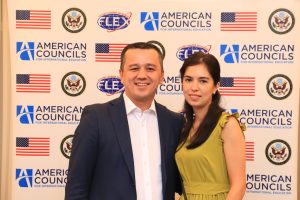 Despite a busy professional schedule, Ibrokhim is actively engaged with the FLEX alumni community and is always ready to support reunion events or webinars. Last July, Ibrokhim led an online session for alumni and additional participants about work and study perspectives in Japan. 
Also in 2021, during a FLEX Appreciation Day celebration, Ibrokhim was named the FLEX Alum of the Year for Uzbekistan in recognition of his outstanding contributions to education.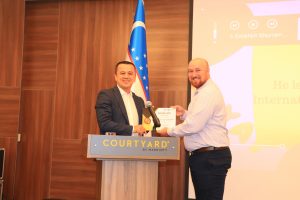 Ibrokhim studied at Westminster International University in Tashkent on a full scholarship; was elected Student Union President at the university; and has worked for the Ministry Foreign Affairs of Uzbekistan, the Asian Development Bank, and the Ministry of Foreign Economic Relations, Trade, and Investment—all before 2013. 
In 2013, Ibrokhim received full scholarship to study in a master's in business administration program at the International University of Japan. Seeing the opportunities provided to students in Japan, Ibrokhim had an idea of opening a Japanese language center in Uzbekistan. The goal of the language center would be to help young people in Uzbekistan to pursue education and career opportunities in Japan, after which they could return to Uzbekistan to launch business initiatives. As soon as he returned home in 2015, he began to work on opening a Japanese language center, StudyTokyo.uz. In 2016, in collaboration with the Japanese company SNET PROMOTION, the first Uzbek students of the Japanese language center, ages 17-23, went to Japan.  
Last year, Ibrokhim launched the International Digital University (IDU) in Tashkent in partnership with Wolverhampton University (UK) and IT-Park – a incubation technological park aimed at providing a conducive environment for technology start-up ventures – having received the Uzbek president's support. IDU is a place where students will be able to study in areas of the IT field that are in high demand and receive a British diploma.  
The following is an interview with Ibrokhim. 
What mistakes have you made along the way and what's your most important inference? 
Mistakes are the biggest part of any success. Therefore, I can say I made lots of them, but they taught me and helped me grow. In fact, I worry about not making enough mistakes, because that means that I am not doing new things, I am not getting new knowledge. Make as many mistakes as possible as cheaply as possible and success will be chasing after you no matter where you hide and how well you hide. 
How did the FLEX Program influence your life? 
Before FLEX I was a nerd who thought he did not "fit in" to the world and society around him. In the United States, I learned that I was perfectly normal. FLEX gave me the confidence to pursue my views, ideas, and dreams with great passion and energy. Now I know I can do anything, and everything is possible. It may seem trivial, but without this realization one dares not even start anything. 
What are your success habits? 
My main habit is to do what I love and love what I do. This is Japanese Ikigai philosophy, which allows you to bring meaning, passion, and joy to every working day and to be the reason you wake up in the morning eager to get back to where you left off yesterday. No need to establish habits or routines, all you need is love! The rest will follow! 
What was the hardest decision you ever had to make? 
Leaving my government career was the hardest choice I had to make in my life. Giving up on the dream of becoming a high-ranking government official, shared by myself, my family and friends, was the toughest decision I have faced so far. I asked myself whether I could bring more benefit to the people of Uzbekistan at a governmental job or in business; I chose business in the education sector as it corresponds to my deep belief that education is the single most important factor in the development of any country. I have never regretted my decision. Today my family and friends also praise me for not listening to them, but rather following the call of my heart. Be brave, follow your heart! 
What is the best advice you can give? 
Dare to be different, to dream big and to be brave in pursuit of this dream! Never be too proud to ask for help and don't be afraid to confess that you don't know something. Be willing to learn from anyone, your friends, enemies, partners; even babies can teach us something.   
What's one change one should make right now to help them get closer to their own success? 
Try! Today! These two words encompass my philosophy. Never tell yourself that something is impossible before you try it. And the best day to start making your dream come true is today! Don't postpone your life, do not try to avoid all mistakes. Mistakes are better than zero action. Start today! Life is too short and runs too fast. You will never learn to swim unless you get into the water!