Since the reopening of the American Councils office in Uzbekistan, the FLEX alumni community has revitalized its presence in the countries' growing community of young leaders by promoting leadership, mentoring, and international education. Today, alumni from all generations consider the FLEX program life changing, because of the lessons they learned, and the invaluable experiences they gained on the exchange.   One of these lessons is volunteering. Its spirit was planted into every alum's heart during their FLEX year that it continues to grow and prosper today.
To show how important volunteering is within the FLEX alumni community, few alumni were interviewed to share their views about volunteering and how they incorporate it in their lives today.
Why volunteer? What are the main challenges of being a volunteer and how do you teach the younger generation to be motivated to volunteer?
Kamilla Sultanova '00 (Karshi, Uzbekistan/San Antonio, TX), a TEDx speaker and the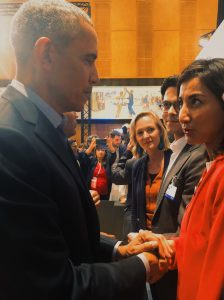 founder of ConnectUz, a culturally responsive consulting app to help promote equality, inclusion, and diversity at work says, "The truth is I started my career early and outside of Uzbekistan.  I had to navigate life and to make new friends in a country that was not my own. I did not get the jobs I wanted, and it was a struggle to make my way into closed networks. I wanted to influence issues that mattered to me. So, I was encouraged to volunteer," Kamilla says recounting her first volunteer opportunities.  "I think volunteering is a gateway to opportunities for the future and at the same time a chance to strengthen yourself and give back to your community." Kamilla also views volunteering as a spiritual journey, because it offers people a way to practice their passions and help find purpose in life. To her volunteering activities bring people closer and brings down cultural barriers that may exist.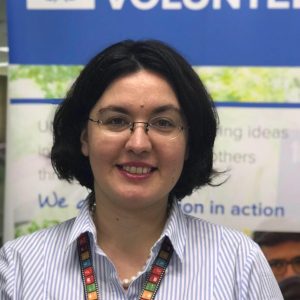 For Emiliya Asadova '02 (Tashkent, Uzbekistan/Huntington Hoods, MI) volunteering has always been a way of personal identification and participation in society. Through volunteering she learns, while witnessing how the acts of kindness impact society. Emiliya has had this burning passion for volunteerism and helping her community since she was a child. Growing up she would create volunteer projects with her friends, one of which eventually helped her professionally. Through working with the UN on a volunteer project focused on Millennium Development Goals, she landed her first job with the UN.  Emiliya currently works for United Nations Volunteers as a Program Analyst for Asia and the Pacific. Through working with volunteering in her career she has come to know some of the challenges of being and working with volunteers professionally. One of the main challenges, she believes, is appreciation and recognition. "Each person who starts their life as a volunteer knows that there is no guaranteed of funding or payment – it's free work.  The only certain reward you get for your community service is a fulfilling sense of changing someone's life," says Emiliya.  Another challenge of working with volunteers is organizing activities to keep them motivated. She goes on to state, "For many people volunteering is a phase of life and people step into volunteering at different stages in life. One usually cannot volunteer permanently due to their life circumstances therefore volunteers come and go. To help with this you must come up with creative ways to motivate them and keep them enthusiastic and coming back.  It is sometimes a challenge".
Who benefits more – volunteers or the people who are the beneficiaries of volunteerism?
Kamilla Sultanova says, "It is a win-win situation. Volunteering is about building skills and improving your professional proficiency. As a volunteer, you support a cause in a community. There is a clear synergy effect, economically, you give a little, but you get much more in return. Volunteering at any level enables social capital exchange. Engaging in activities that allow you to give back is proven to promote well-being, employee retention, loyalty, and a healthy culture."
Adding to this Emiliya says, "It is a debatable question. Research done in 2018 by UN Volunteers show that it is the community values human connection, solidarity, trust, reciprocity, and collaboration."  So, all in all, volunteering whether the beneficiary is the volunteer or the community, can make significant changes for the overall wellbeing of society.
How can volunteerism be passed on to younger generations if it is not already engrained in society? 
Kamilla believes volunteering needs to be taught as early as possible, stating "Imagine you could get school credit to visit the elderly or read books to children? That the trend today. I was part of a few experiments in Helsinki to plan a new school where volunteering and intergenerational links would be core values."  In Finland, there are already many teachers facilitating the practice of students volunteering in return for school credit both in high schools and universities. As an advocate for volunteerism, she ensures this has a fantastic way to ease the burden of teachers, because it allows students to get out of the classroom and learn by doing. Kamilla says, "Many alumni still remember going out to take part in Earth Day cleanups and their first community service projects.  It's very empowering to make a positive change in the community."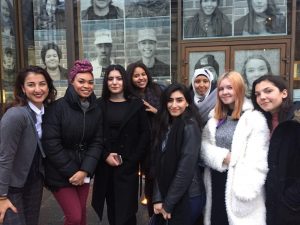 There are so many ways to support your community, to excel in social development, and help people to become heroes that generate change for the common good. Kamilla and Emiliya say it is that simple – start from your home, neighborhood, or community to show solidarity and care for your country. You do not need to seek to volunteer for some topnotch organization to start working as a volunteer. You can help someone in their daily life, someone who is riding a bus with you, someone who is struggling on the street, anyone at all!  It takes baby steps to generate change throughout society.
Written by Dilnoza Mamadaliyeva '05 (Tashkent, Uzbekistan /Salem, OR)