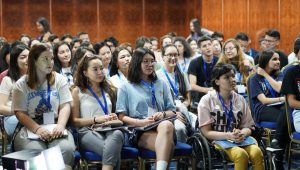 On July 25-28, 61 FLEX Alumni from Kazakhstan, Kyrgyzstan, Mongolia, Tajikistan, and Uzbekistan attended the Central Asia FLEX Ability Workshop in Bishkek, Kyrgyzstan to learn more about debates and project development and management. Participants included FLEX alumni from generations 2004-2019.
During the workshop FLEX alumni learned how to debate by the trainers, learning about the essentials of developing a strong argumentation and refutation techniques. Trainers also covered the importance of debates in activism. Participants had a chance to debate in two practice rounds and the four highest scoring teams competed in a final round.
During project development and management (PDM) sessions American Councils trainer David Malana and five FLEX alumni mentors walked participants through aspects of PDM including needs assessment and resource identification; vision; goals and objectives; action planning; and evaluation and monitoring. FLEX alumni developed 18 project proposals that they presented during a gallery walk of projects.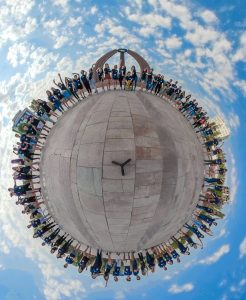 The projects focused on these topics:
Environment protection
Women's empowerment
Working with at risk communities
Preventing bullying
Mental Health
Youth empowerment
Informal education
Promoting healthy lifestyle
First aid
Sanitation
Each participant will have the opportunity to apply for a Central Asia FLEX Ability 2019 follow-on grant of up to $250 to support alumni in holding projects at home. The FLEX Alumni program team received 19 projects proposals from the workshop participants.
Trainers and Mentors of Central Asia FLEX-Ability Workshop 2019: 
David Malana –Trainer (Project Development and Management)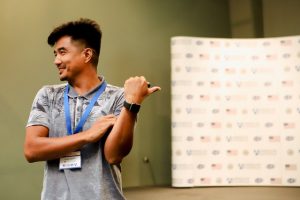 David is a returned Peace Corps volunteer from Kyrgyzstan, who has worked in education and media with students from Central Asia, India, Afghanistan, Ethiopia, and Europe. Aside from working with motivated students and alumni all over the world, David enjoys photography, videography, basketball, travel, and surfing. He recently created, sang, and rapped in a music video entitled "Asli Punjab" with Access India Alumni. David has been living and working in Kyrgyzstan for almost 10 years and is excited to be working with FLEX alumni in what he considers his second home!
Elvira Kalmurzaeva '08 (Naryn, Kyrgyzstan/Greenbelt, MD) – Trainer (Debates)
Elvira is the Executive Director of the International Debate Education Association (IDEA)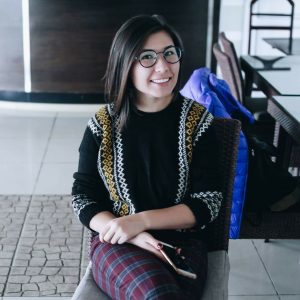 in Central Asia, a regional youth-led-for-youth organization. She has nine years of experience working with youth organizations and programs, including Soros Foundation Kyrgyzstan and local non-profit organizations. She has worked with the Organization for Security and Co-operation in Europe (OSCE) in Bishkek as a Political Assistant and as a Junior Public Officer in the Ministry of Foreign Affairs of the Kyrgyz Republic. Elvira has extensive knowledge on the political, socio-economic context of Central Asian region, human rights, project management, and youth issues. She is a former OSCE Youth Ambassador and speaker with the Kyrgyz Youth Parliament.
Aliia Zhakypova '18 (Bishkek, Kyrgyzstan/Gate City, VA) – Co-Trainer (Debates)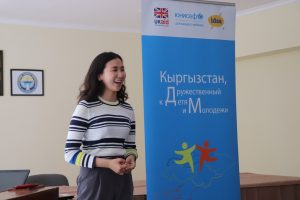 Aliia is a first year student majoring in politics, government, and society at Minerva Schools in San Francisco.  She currently works as an assistant at the Ministry of Education and Science of the Kyrgyz Republic. Aliia is an experienced debating coach and adjudicator. She has won five debate tournaments in Kyrgyzstan and was a finalist and semi-finalist in the various tournaments, including the Central Asian Cup 2017. She also was a debate coach at the Kyrgyz Turkish Manas University for several years and founded a school debate club.  Aliia worked with the International Debate Education Association, coordinating Summer Debate School in Bishkek and Osh and helped to organize debate tournaments in various regions of the country. Her goal is to become a successful human rights lawyer.
Nazerke Zarlykhanova '12 (Alatau, Kazakhstan/Exeter, CA) – Mentor YCO FLEX
Nazerke aspires to bring value to people through education and she strongly believes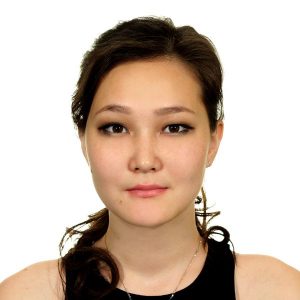 that with the development of technology, education should become accessible to as many people as possible. Nazerke graduated as valedictorian from KIMEP University and further continued her studies at the Yenching Academy at Peking University. She simultaneously completed a degree from the Dubai Business Associates Program, where she worked as a strategy consultant at Emirates. Nazerke has extensive experience of working and studying in more than 10 countries across Europe, North America, Asia and the Middle East. Starting from September 2019 she will join Facebook, Inc. to further learn about impact of technology on people's lives.
Saida Mamadjonova '09 (Kanibadam, Tajikistan/ ChisagoCity, MN) – Mentor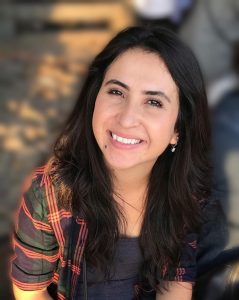 Saida is an International Programs Manager (IPM) at the Zhejiang International Studies University (ZISU) in Hangzhou, China. She recruits international students and teachers, assists them in adjusting to Chinese culture, plans and organizes on- and off-campus events, and promotes ZISU and its programs abroad. Previously she worked as an Operations Analyst at Wells Fargo Bank in Minneapolis, MN. During her undergraduate years at Century College in Minnesota and University of Wisconsin River Falls, she worked as a Resident Assistant, an Orientation Transition Leader, a Mentor, the Chancellor's Student Ambassador, and a tutor. She obtained her BA in International Studies and Economics from UWRF in 2015. In September of 2019, she will start a master's degree in Public Policy at the International Institute of Social Studies of Erasmus University Rotterdam, Netherlands.
Abdulvahhobi Muminjoniyon '09 (Dushanbe, Tajikistan/Houston, TX)– Mentor
Abdulvahhobi, who goes by Bobby will join the Organization for Security and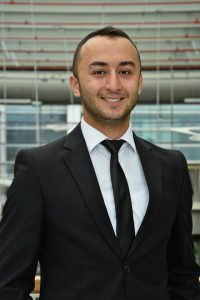 Co-operation in Europe (OSCE) and will be working in the office of the Coordinator of Economic and Environmental Dimension at the OSCE Secretariat in Vienna, Austria. He will focus on Water Management in Eastern Europe and Central Asia regions, the goal of which is a more efficient economic and environmental use of the regions' water resources. He served as FLEX Alumni Coordinator for Tajikistan in 2010-11 and was the president of international students while he pursued a bachelor's degree in Istanbul, Turkey. Abdulvahhobi is also an alumnus of the Global Village program.
Gulnaz Tabynbayeva '14 (Aktau, Kazakhstan/Kentwood, MI)– Mentor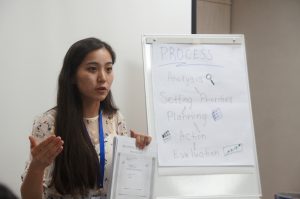 Gulnaz started debating five years ago when she joined a debate club at her university. Debating changed her outlook on many issues and especially on women's rights.  Along with her fellow debaters, she has co-founded and became a president of the student organization, E.Quality Club, which promotes gender equality. In a year they have organized three gender equality forums gathering more than 1500 people as well as a training to raise awareness about domestic violence, self-defense, and sex education.
Aizhan Tagaeva '11 (Bishkek, Kyrgyzstan/Rumford, ME) – Mentor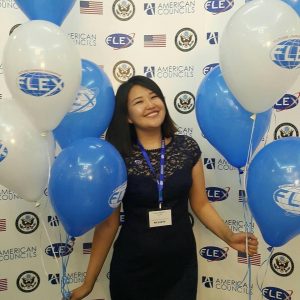 Aizhan attended the FLEX-Ability Workshop in 2014 in Almaty as a participant, and as a mentor in 2018 and 2019. Aizhan now works as the Deputy Director at the Lingua Foundation for Innovative Education, where she manages the education development projects supported by the U.S. Embassy. She also serves as executive director for the Association of Young Teachers in Kyrgyzstan.
Zhyldyz Apyshova '16 (Aral,Kyrgyzstan/Tuscaloosa, AL) – Videographer
Zhyldyz' host mother during her FLEX year in Alabama was ethnically Kyrgyz! Upon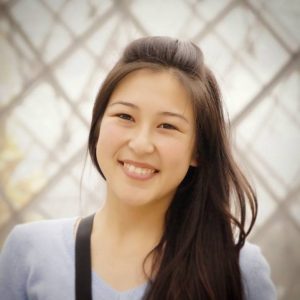 returning to Kyrgyzstan, Zhyldyz won a U.S.-CAEF scholarship and has been studying at AUCA. She also won an Erasmus+ scholarship to take part in an exchange in France. She is passionate about photography, video, and education, and engages in all of them through her work as a founding commission member of a local NGO, Luciana. She also is an amazing poet.
You can check out the workshop video created by Zhyldyz below: