"I have three kids, a job that I love, and I am in charge of many duties at home. But, as soon as I heard about the grand FLEX reunion and celebration of FLEX Appreciation Day, I told my husband that he has to take over the duties and help me for few hours because I have been waiting for this day for such a long time!" says Hulkar Atabaeva '06 (Urgench, Uzbekistan/ Orlando, FL).
The FLEX Alumni community in Uzbekistan was happy to host a FLEX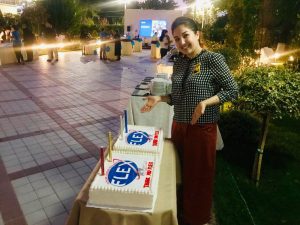 Appreciation Day event on September 28, 2019. More than 60 FLEX alumni and special guests from the U.S. Embassy Tashkent gathered at one of the largest hotels in the center of the city to commemorate the FLEX program and reminisce about the opportunities it has provided to all of the participants.
John Brown, Public Affairs Officer of U.S. Embassy Tashkent, and William O'Roark, American Councils Uzbekistan Country Director, gave opening remarks at the event. Alumni and friends enjoyed a FLEX bingo icebreaker, networking, and purely reconnecting after 13 years of FLEX inactivity in Uzbekistan. A video montage of FLEX Alumni living outside Uzbekistan and a FLEX cake-cutting ceremony truly rounded out the event with a positive, forward-looking spirit.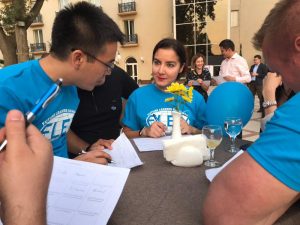 "I did not know that this event would turn out to be so fun. We got so accustomed to being seniors in the community that we forgot how fun it could be to reunite with the old friends and recall our best memories from the exchange", notes Nodirbek Muminov '05 (Namangan, Uzbekistan/ Topeka, KS).
"I am so thrilled to meet my fellow FLEX alumni after such a long time. This is the exact time when I feel the real FLEX power. It really works", says Adilbek Kazbekov '05 (Nukus, Uzbekistan/ Circleville, OH).
Alumni were pleased to rekindle friendships, which made them feel motivated about being an irreplaceable part of a worldwide community of alumni and honored to be an inspire future generations. They were proud to be the ambassadors of the program and carry the FLEX program spirit to help stir openness, positivity, and flexibility among youth in Uzbekistan.
Written by Dilnoza Mamadaliyeva '05