From March 29 to April 2, 2019, 65 FLEX and YES alumni from Albania, Bosnia and Herzegovina, Bulgaria, Kosovo, Macedonia, Montenegro, and Serbia gathered in Vrsac, Serbia, for the third annual IDEAL Workshop. The workshop consisted of two distinct but intermingled programs, one for 51 "junior" alumni of generations 2015-2018 and one for 14 "senior" alumni of generations 2010-2014, allowing participants to build intergenerational and cross-border relationships while gaining valuable professional skills and experiences they will later use to address community needs.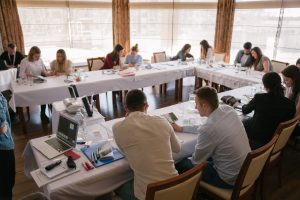 Senior alumni focused on FranklinCovey's 7 Habits of Highly Effective people, guided by mentor Jelena Milosevic (U.S. Embassy Belgrade's Media Management Workshop '06), a certified trainer with over 15 years of experience in media who has held top executive positions in domestic and multinational companies. Participants developed visions for their futures, established long-term goals, and explored how to achieve success through self-awareness, prioritization, and effective approaches to interpersonal relationships. "[The 7 Habits program] was very useful for my future career and my understanding of what I want from life and what are my priorities," one participant shared. "It was one of the best workshops I have participated [in]," wrote another. The program's combination of practical advice, self-reflection, and open, honest discussion helped participants to grow individually while also building a strong sense of community within the group. As one participant described: "I absolutely loved the atmosphere because we had a chance to share personal stories, opinions, and thoughts in a very healthy environment." Another reflected that the interpersonal connections built were "absolutely the highlight of my time. I shared and received so much from people of other nationalities."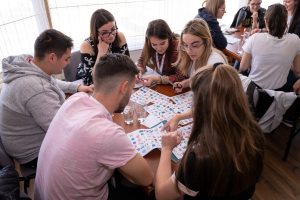 Junior alumni were divided into three groups, each focused on a different theme: Mental Health and Developmental Differences; Professional and Adulting Skills; and Training, Facilitation, and Teambuilding.
Alumni in the Mental Health and Developmental Differences theme group were guided by mentors Ksenija Edelinski (FLEX Serbia '13), a senior psychology student at Heidelberg University in Germany, and Olja Njaradi, a language, speech, and voice therapist who specializes in working with youth with developmental differences such as autism. Participants in this theme focused on mental health as an aspect of everyday life. They learned how to combat common challenges like stress and anxiety. They developed a better understanding of how different people experience the world. They explored ways to break stigma and support inclusion in their communities. They even had the chance to get to know a local group of young adults with developmental differences. "I liked the environment and things we discussed," one participant explained. "It was interactive and fun but also educational." Other participants described the experience as "amazing," "out of this world," "eye-opening," and "life-changing."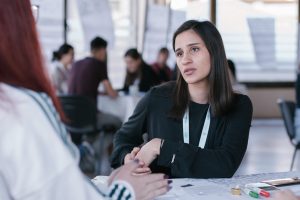 Alumni in the Professional and Adulting Skills theme group worked with mentors Ferenc Bagi (IVLP Serbia '15), a professor at the University of Novi Sad Faculty of Agriculture, and Amber Brown (Peace Corps Kosovo), a marketing professional. Through a series of simulations, reflection, and discussion, participants were challenged to utilize and analyze a wide range of skills needed for professional and "adult" life, including skills related to employment readiness, professional comportment, personal branding, and financial literacy. Mock interviews, individual CV critiques, and financial planning simulations were among the favorite activities in this theme. "I really loved it when Amber gave me a personal, professional review [of my CV]. It was good constructive criticism," one participant reflected. Another shared: "I loved the mock interviews because I actually got to learn a lot of tricks on how to behave in an interview. It was just amazing!"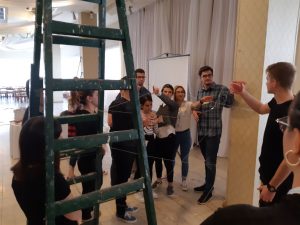 Alumni in the Training, Facilitation, and Teambuilding theme group were led by mentors Tyler Bagi (Peace Corps Macedonia), an experienced outdoor educator and certified social studies teacher, and Jelena Jevtic (FLEX Serbia '13), assistant program coordinator at the global peacebuilding program NewGen Peacebuilders. Tyler and Jelena modeled how to be effective facilitators in scenarios ranging from icebreakers to complex dialogues to teambuilding activities, inviting participants to discuss and dissect their approaches along the way. "I liked EVERYTHING about my theme group," one participant wrote. "The mentors were amazing. The games and activities that we learned were so useful and made me reflect and grow. The group was great and welcoming." Another expressed gratitude for the program, writing: "Thank you for everything; for making us grow as individuals, for learning how to work and get along with people from all over the world/region, and for giving us a platform which we can use to start and make small and big changes in our community."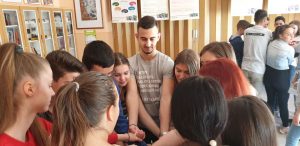 After participants concluded their theme training, they were given the challenge of taking something of what they had learned and sharing it with students in grades seven and eight at the local elementary school Mladost. Teams of seven to nine alumni worked with groups of 18 to 20 students, with activities ranging from teambuilding exercises to discussions of diversity and tolerance. For many participants, this was the highlight of the entire IDEAL Workshop program. "Community activities were the best because we could use and practice all the knowledge that we gained," wrote one participant. "It was the greatest wrap-up to what we learned all these days," wrote another.
IDEAL Workshop participants are now preparing to take what they learned and share it with their communities through their own projects.
The IDEAL Workshop program was developed and implemented by American Councils for International Education and made possible by support from the FLEX and YES programs, together with grants from the U.S. Embassies in Prishtina, Sarajevo, Skopje, and Sofia. The program team extends a special thanks to Tijana Jugovic, Cultural Affairs Assistant and Alumni Coordinator for the U.S. Embassy in Belgrade, who attended the event and served as a guest speaker.
To learn more about the IDEAL Workshop experience from the perspective of participants and mentors, check out this reflection written by Peace Corps volunteer and Professional and Adulting Skills mentor Amber Brown, or search social media for the hashtag #atIDEAL19!