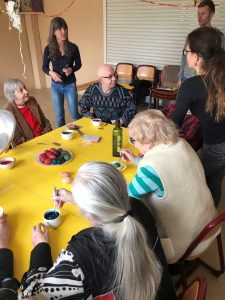 Alumni in Latvia created a documentary with the goal of demonstrating the importance of community and the value each individual in contributing to the betterment of the world.  Who better to start with?  Those who can share the recent history and tell their stories of how they lived and their legacies, the elderly.
FLEX alumnae Elizabete Sanda Exe '18, Anna Siline '18 and Anete Jodzevica '18 created a short documentary sharing the stories of the residents of the Samariesu Apvieniba Nursing home.  Project organizers began visiting the residents in December 2018 and held monthly activities with them.  While filming the events, alumni encouraged the residents to tell their stories while they celebrated New Year's together, decorated eggs during the Easter celebration, enjoyed tea and pastries, and listened to concerts together.
Paula Kellija '17, Alumni Coordinator in Latvia, said of the project: ''I admire the hard work that alumni put into these events. Observing residents' emotions and reactions during the events, I saw that the residents felt cared for and important. They had the opportunity to open up and share their life experience. The fact that the girls put this into a documentary is even more important, because it offers the residents a chance to share their stories more widely."
Check out the documentary "Golden Oldies" below:
This project was made possible with the financial support of a Eurasia FLEX Ability follow-on Workshop grant.
Written by Paula Kellija '17