Eraser: noun
an object, typically a piece of soft rubber or plastic, used to rub out something written
As a follow-on project of the Eastern Europe FLEX-Ability Workshop 2018, FLEX alumna Irina Novac '17 (Paunesti, Romania/ Albuquerque, NM) organized the "Radiera" ("Eraser") Film Festival on December 21, 2018. Organized with the help from seven fellow high school students in Focsani, the short film competition had the goal of bringing attention to women that had a great impact on Romania's history and are now forgotten. Although an eraser is usually used to remove something that has been written, FLEX Alumni Romania wanted to change that; they wanted to use "Radiera" (the "Eraser") as a means to bring forth what has been forgotten. Women highlighted at the festival include paratrooper Smaranda Braescu; Ana Aslan, writer; Sofia Nadejde, anti-communist activist; Elisabeta Rizea, writer; Alice Voinescu, neurosurgeon; Sofia Ionescu, lawyer; Sarmiza Bilcescu, and women's rights activist Eugenia Reuss-Ianculescu.
Initially, the event was dedicated to high school students in the Focsani area, but due to interest shown by students all around Romania, "Radiera" became a national event. Out of all the applications submitted, seven teams were chosen as finalists to present their short films during the festival. On the day of the event, over 200 people came to see the screenings, among which were students that traveled from all around Romania eager to participate in the festival. After the seven team presented their films, One World Romania presented three short documentaries from the 1950's depicting women's role in that period, initiating an interactive discussion among participants.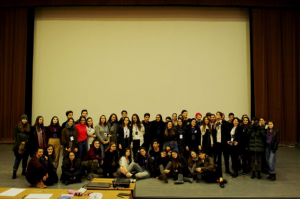 The jury, which was represented by a history teacher, a women's rights activist, and a movie director, chose the three winners and gave out the prizes. The first-place winners were granted entry to the World Romania Human Rights Film Documentary Festival; the second-place winners won a one-year subscription to "Decat O Revista"- an independent journalistic platform; the third-place winner won copies of "The Atlas of Beauty" by Mihaela Noroc, a Romanian photographer that traveled around the world and wrote the stories about the women she met.
At the end of the event, Irina stated that she wishes to continue what she has started and hopes that the documentaries created for Radiera Film Festival reach schools and are used as educational materials.  Irina shares: "The festival itself turned out amazing. I learned a lot from it, and I am sure that the next edition will be way more amazing than I can imagine. "Radiera" is not stopping here, and we will continue to write with it."
See the videos from the Radiera Film Festival here!
Written by Dorotheea Arustei '17