By Daiana Olteanu '18 (Ramnicu Valcea, Romania / Lamar, Missouri)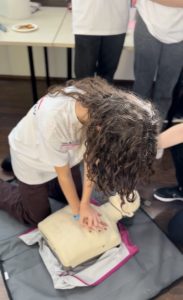 Imagine the following scenario: you are walking down the street on a sunny day, and the person in front of you suddenly falls to the ground. You check on them, but they're not breathing: what do you do? Through Community Heroes Camp, four alumni equipped 17 high school students with the knowledge needed to promptly answer that question and act with confidence when someone needs immediate help. 
Teodora Diamandescu '18 and I had the idea of laying the foundation of a healthier community by providing youth with accurate medical education and first aid training. As medical students, we have seen firsthand the effects of disinformation daily. We decided to extend our team by adding Raluca Dobre '18 and Adina Buleandra '22, who helped with budgeting and supporting the hands-on tasks.  
The camp lasted for three days, and it took place at Casa Mica Guesthouse in Bucharest. On the first day, 17 high school students participated in teambuilding activities, which helped them get to know each other better and gain confidence. On the second day, our focus was on Basic Life Support (BLS), taught by three certified trainers from Medical Student Society Bucharest. It consisted of a first part, which was theoretical, and a second part, which was hands-on.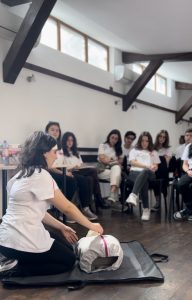 The participants got to practice CPR on mannequins brought by the trainers. They were interested, asked questions, and communicated with the trainers about situations that may occur when offering CPR. They had the opportunity to perform CPR, the Heimlich Maneuver, as well as the lateral safety position by themselves, with the intervention of trainers, when needed. After the Basic Life Support session, I facilitated workshops about hygiene, vaccines, antibiotics, diabetes, and mental health. I used the knowledge and skills that I learned in medical school. 
As the name of our project suggests, we sought to prepare 17 young community heroes who could help ensure the safety of our communities. We also aimed to spread awareness about health, a vital pillar of a functioning society. The participants were passionate about the topics discussed, asked questions, and were eager to learn as much as possible. They even went a step further and were curious about the best approach to share this information with others, such as through social media, similar workshops, or even through collaboration with schools.  
In the future, we hope to reach even more young people and foster an even more educated and aware society where everyone knows how to act safely and efficiently when faced with an urgent life-or-death situation. 
Teodora Diamandescu '18 (Constanta, Romania/Dripping Springs, Texas) 
Raluca Dobre '18 (Mangalia, Romania/Tolland, Connecticut) 
Adina Buleandra '22 (Chirnogi, Romania/Wahoo, Nebraska)