Denisa Raducan '18 (Biliesti, Romania / Greenwood, IN) 
They say volunteering is addictive: Once you experience it, you never stop seeking opportunities to make a difference.  
Cristian Diaconu '17 (Bucharest, Romania / Magnolia, TX) is someone who has not given up on volunteering since returning from the United States. Currently an undergraduate student, Cristian is involved in all sorts of volunteering activities at his university, including organizing events with a Japanese theme, being a photographer, and translating different documents from and to English, Romanian, and Japanese.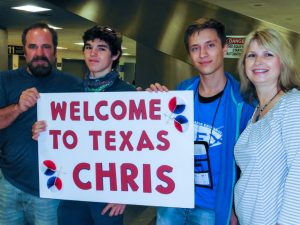 His volunteering journey first started during his FLEX year in 2016, when he had the opportunity to find out what volunteering is and why it is so important. Cristian volunteered every Sunday at his local church where he would go with his host family. He was responsible for the sale of popcorn, sweets, and snacks for the kids.  
He also participated in charity events. For example, during Thanksgiving Day, Cristian visited different homes for elderly people where he spent time with them during the holiday. For Martin Luther King Jr. Day, Cristian helped pack Christmas gifts for children in countries affected by malnutrition.  
"Once I arrived in the United States, and I stumbled across this culture of volunteering that Americans have, I was completely transformed as a person," Cristian said. "It made me realize what it truly means to be a volunteer and to help your community." 
Cristian's passion for volunteering continues to evolve at the Romanian American University (URA), where he was recently named the Office Coordinator of the American Studies Centre and is working on rebranding the Department of American Studies, which includes personalizing the department logo, creating all necessary social media pages to advertise the new image and of the Department of American Studies, and reaching out to new university partners. 
In this role, Cristian has been organizing events and projects that encourage people to volunteer. He has led charitable fundraisers, played the guitar for events organized with the purpose of gathering donations, and helped with packing and delivering different Christmas packages for people in need in Romania.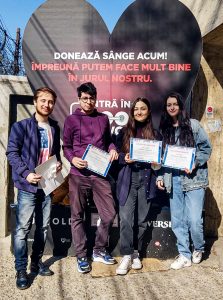 He organized his most recent activity in connection with 4/4 Friends by American Councils Romania, a ten-day event meant to honor the legacy of Martin Luther King Jr. and celebrate on a national level the principles of volunteering and friendship.  
On April 4, Cristian gathered some of his fellow volunteers and students, and they all went to donate blood at the Blood Transfusion Center in Bucharest. 
"Volunteering isn't just picking up some trash from a park; it's so much more than that. It's a lifestyle," Cristian said. 
Cristian is also an active volunteer at the Centre of  Romanian-Japanese Studies and the Department of Asian Studies, which includes the Centre of Romanian Japanese Studies/Romanian Korean Studies, among others. 
Alongside the director of this department, Cristian learned that volunteering could take you far and help you accomplish many remarkable things. Because of their work in spreading Asian culture through their events, such as Japanese themed festivals and concerts with traditional Japanese drums, the Department of Asian Studies has become one of the partner centers to the Embassy of Japan and the Embassy of Korea.  
Their work has been so impressive that one of the centers of this department, the Centre for Romanian Japanese Studies, recently received an award from the Minister of Foreign Affairs of Japan for their activity and dedication to spreading Japanese culture.