When FLEX alumni return from a year of study in the United States, they often find ways to give back to their home communities with the new skills they have learned. Stefan Popa '19 (Bucharest, Romania/Williamsburg, MI), Ioana Buleandra '19 (Valea Voievozilor, Romania/Grimes, IA), and Ananda Constantinescu '19 (Bucharest, Romania/Vendor, AR) discovered how to just this by organizing the Youth Engagement in Society or YES! Camp, a camp with the goal of teaching civics to local youth.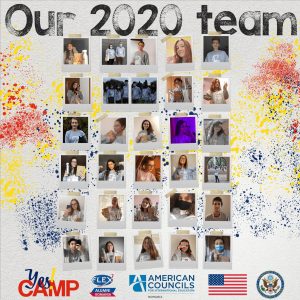 The three alumni, all who participated in Civic Education Week while on the FLEX program, started discussions about the project right after their return home to Romania in the summer of 2019. The idea took shape during their re-entry seminars, where they came up with the concept of a camp that offers the participants a place to learn Romanian civics and encourages them to be more involved.
The YES! Camp brought 45 teens from across Romania together to learn about various aspects of civic education, including media literacy, the role of government and public institutions, diversity, advocacy, and grassroots community engagement through project management. Additionally, the participants worked with experienced mentors to create their own local grassroots projects and youth-led initiatives. At the time of publishing, YES! Camp participants have organized 12 follow-on projects. Some of these projects have turned into entire community movements, such as "Bujoru Goes Green," an ecological initiative led by local youth in a southern village that has the community working together to keep their village clean.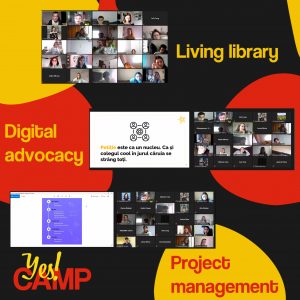 As part of the project Stefan, Miruna, and Ananda, are also creating a "Civic Engagement for Teens" guide, which translates some harder to grasp concepts regarding civic engagement into an easy to read, playful illustrated guide. A team of young editors and illustrators, as well as civics experts, academic professors and school counselors have contributed to help develop the best guide possible for the target audience.
The YES! Camp impacted the lives of those who attended the event and countless others as well.  Participants took what they learned and implemented projects in their communities, thus helping teach even more people about the importance of community involvement and the value of understanding their system of government in Romania. Stefan, Miruna, and Ananda could not have been more pleased with the outcome of the camp and the difference they were able to make in their country.
Written by Irina Novac '17(Bucharest, Romania/Albuquerque, NM)