In the framework of Eurasia FLEX Ability Workshop Project 2018 three alumni, Sandro Mikelashvili '18, Guga Kupradze '17 and Nino Kapanadze '18 held a two-day project in Gori, Georgia on raising awareness about Down syndrome (DS) among high school students on February 19-20.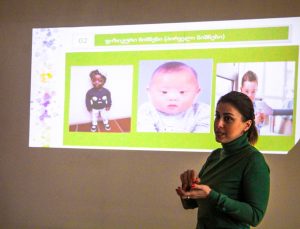 The event was full of activities, discussions, and debates. Guest speaker Ekaterine Kipiani, an expert in the field of working with people with Down syndrome, started activities off with a presentation on the topics of people DS and their participation in Georgian society; the causes of the genetic disorder; and challenges people with DS and their families face. Following the day of learning, the 25 high school students involved in the project visited the Gori Welfare and Development Centre, where they met children with DS and spent the day taking part in activities with them.  All involved danced, sang songs, played games, and enjoyed performances.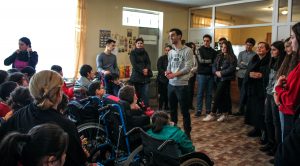 Co-organizer Sandro Mikelashvili '18 noted that, "Our goal with this project was to teach young people about Down syndrome and introduce them to the community in Gori.  We high school students cannot always meet people with DS and to learn about the challenges that they face.  Our aim was to show them the depth of the challenges that the DS community faces in Georgia.
 Written by Sandro Mikelashvili '18