The first generation of FLEX alumni in Mongolia is full of energy to make changes in their community! Seven out of ten of the alumni participated in the Central Asia FLEX Ability Workshop 2018 (#CAFAW18), a workshop dedicated to teaching alumni how to design and implement successful projects. Through the workshop's follow-on grants program, alumni implemented various projects catered toward youth development in Mongolia.
A few of these projects have already taken place!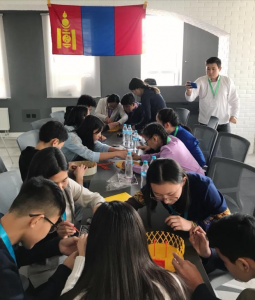 The project "Today's Listener, Tomorrow's Teacher", was a career planning workshop organized by Bayarmaa Tumur-Ochir '18 (Ulaanbaatar, Mongolia/ Londonderry, VT) and Anujin Nandintsetseg '18 (Erdenet, Mongolia/ Elroy, WI). For this five-day workshop, the eight participating high school students took part in open discussions about their career interests and listened to guest speakers present on various topics. Ariuntaya, the founder of the Bright English Academy, shared her personal experience with planning and choosing a career. Bayarmaa Tuduv-Renchin, a journalist, spoke about the importance of critical thinking in her career.
Another CAFAW follow-on project was the "After School Workshop", a five-day workshop organized by Tsenguunbileg Naranpurev '18 (Ulaanbaatar, Mongolia/ Bedford, IN) and Ulaanbaatar City Representative Tsedensodnom Uranbold '18 (Ulaanbaatar, Mongolia/ Kemmerer, WY). The goal of this project was to teach the participating teenagers how to use their after-school time effectively, offering suggestions such as volunteer and self-development opportunities. A total of 13 participants from different high schools in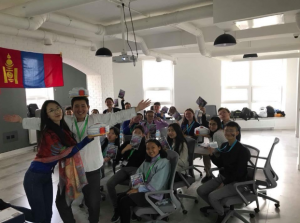 Ulaanbaatar learned about team building, time management, opportunities to study abroad and volunteer, while obtaining a better understanding of different cultures, stepping out of the comfort zone, and gaining new friends. During the event, several guest speakers were invited from different fields, such as Chingis-Od Zundui, a finalist of a Japanese Government Scholarship, who shared his advice for the admissions process and studying abroad. Other guest speakers included a representative from the Mongolian Red Cross who talked about the volunteer opportunities in Mongolia and a psychologist from the Child and Family Center for Developmental Psychology, who talked about teen mental health and personal development. The workshop concluded with pizza and an awards ceremony.
"Participating in the After School Workshop was an unforgettable memory for me, because I study in the 11th grade, so I have to choose my future profession soon. Thanks to this workshop I have come closer to determining my future path and hearing the valuable advice from the speakers has taught me what I need to concentrate on in my future." shared one of the participants Yuljalsengee about his experience.
Both workshops have been successful and seeing the slightest positive changes done by them, alumni from Mongolia are full of passion to do even more!
Written by Undrakh Enkh-Amgalan '17