Myadaggarav Chuluundorj '19 (Erdenet, Mongolia / Elliott, IA) 
As technology advancements and virtual project options continue to grow around the world, we want to highlight three different virtual projects in Mongolia that have enabled us to reach a broader group of people. We'll also explore tips and tricks for engaging participants with virtual games, including an interview with Bud Bayndalai '20 (Erdenet, Mongolia / Otsego, MI). 
FLEX-ED Online Workshop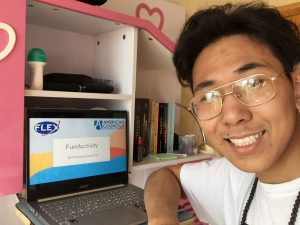 From June 4-6, I, Myadaggarav Chuluundorj, and Tsedensodnom Uranbold '18 (Ulaanbaatar, Mongolia / Kemmerer, WY); Bayasgalan Kherlen '19 (Khoroo, Mongolia / Lakeview, MI);  Zandan-Ochir Ganbold '19 (Esunbulag, Mongolia / Terry, MT); Ujin Khongorzul '19 (Ulaanbaatar, Mongolia / Visalia, CA); and Munkhsuld Narangerel '20 (Ulaanbaatar, Mongolia / Tyler, TX), organized the FLEX-ED Online Workshop for 340 middle and high school students from 21 provinces in Mongolia on Zoom.  
Each alumnus led a session related to a course from their university or to their area of study. Participants learned the basics of economics, such as international trade and inflation; delved into science and technology; and learned the basics of coding and innovation. The workshop wrapped up with the participants studying international relations and politics.  
Each session focus had several interesting tasks and prompts to solve. For example, after the coding lesson, each participant created a small three-minute animation coded video. Participants gained knowledge and skills to become successful technology users in the 21st century, such as critical thinking, logic, and leadership.  
TEDXYouth@AyushSquare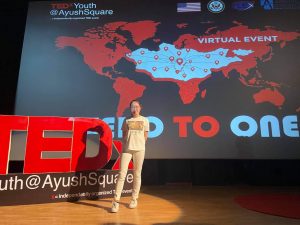 Uyanga Ikhbayar '19 (Uvurkhangay, Mongolia / Burleson, TX) organized "Zero to One" TEDX@ Ayush Square on June 26, funded by the FLEX Alumni Global Youth Service Day Matching Grants program. The event aimed to share the importance of limitless dreams and innovations, and to emphasize that everyone starts from point zero.  
TEDx@ Ayush Square was the very first alumni event planned to take place in Uyanga's province, Uvurkhangai, but due to COVID-19 restrictions, the event went fully online. The event was successfully broadcasted on Facebook, reaching 1,200 people all over Mongolia. 
Ten aspiring Mongolian youth from different backgrounds, along with alumni Tsenguunbileg Naranpurev '18 (Ulaanbaatar, Mongolia / Bedford, IN) and Tsedensodnom Uranbold '18, gave speeches and shared ideas on innovation and dreams. All 12 speakers were young professionals in their 20s who were successful in different fields, from computer science to law. Since the main idea was "Zero to One," all speakers talked about starting their careers from "zero," how they discovered their life goals and dreams, the challenges of starting their career, and how they overcame and become successful at "one."  
Spirit of Adventure 
Lastly, since one of the biggest advantages of virtual projects is that they help people connect with others worldwide, we are highlighting Bud Bayandalai '20's role-playing virtual game, which he created for alumni.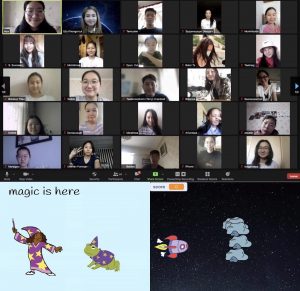 Bud organized a "Spirit of Adventure" virtual role-playing adventure game during the 2021 winter holiday season, engaging six alumni from five countries to test the game as a beta version. The two-hour game starts with players acting as fictional characters in a fantasy world, and they must choose one of three main stories that offer different types of experiences. The game's main goal is to encourage alumni participants to be imaginative, think outside of the box, and learn to synergize with others.  
We interviewed Bud about the process of hosting a virtual game.  
How did you come up with the idea? 
As a child, I liked watching cartoons. It made me want to go on an adventure myself and, combined with my love for storytelling, the idea came naturally to me. I should also mention that I took huge inspiration from a famous role-playing game, "Dungeons and Dragons," as well. Though I've never played it, the notion of going on a journey with others seemed enjoyable. 
I first focused heavily on the worldbuilding aspect in terms of the game development process. By doing this, I have brief descriptions for certain aspects and a foundation for other things like the tone of the game, the storyline, and events that would happen.  
How long did it take you to write a storyline for the game? 
It took me at least two weeks to finish the storylines and other important factors like characters, lores, and landmarks. Because I wanted to give players as much control as possible, I created not only one but three different storylines that the players could choose. It was especially challenging to structure each story since it was a role-playing game, and one decision from players would completely change how the story would go. Therefore, when the time came, I tried my best to ensure the players would follow a certain direction in their objective, all the while giving players the power to do what they wanted. To immerse my players into the game, I included quite a bit of conflict in the story. With each confrontation and story progression, the level rises in tension until it hits the climax and reaches a reasonable conclusion; that was the storyboard I cultivated the most.  
How did you develop characters in your game? 
I took a lot of inspiration from other fictional works, from shows to books. There are also a lot of character archetypes that I used to my advantage, but instead of making a typical "black and white" character, I tried to make them as unique and nuanced as possible. I do have to commend the players that joined my game. Although I ensured they would have the least amount of trouble when it comes to acting as a player, they made their characters come to life by giving their own personal twist.  
How do you write the plot? 
It depends on what kind of theme you want to portray; for example, if I want to write a murder mystery, I will focus more on creating interactions between characters and create a lot of conflicts that rely on details provided by clues and other information. In terms of writing a role-playing game, like what I said above, I would focus more on creating challenges that would allow the characters to choose what they want to do and to continue the story. With each issue the player faces, the tension should rise.  
What were the pros and cons of organizing the game virtually? 
One of the most significant advantages is that the game can have people from different countries, allowing us to make friends and learn about each other's culture. Besides not having physical communication, you can create virtual games that are enjoyable by including compelling background images on Zoom. 
Participants play a vital role in organizing virtual workshops and games. To engage them, the host should always make sure players understand the process of the meeting and allow them to ask questions. I hope that my experience from organizing "Spirit of Adventure" will help others make their virtual projects more exciting and engaging.  
"Spirit of Adventure" has now reached a number of alumni, and Bud Bayndalai '20 plans to organize another round of play with different themes in the future, connecting people from around the world.