"During my exchange year, I explored some of the biggest cities in the world – New York and Washington, DC. The sightseeing and what I saw in terms of modern culture truly opened my eyes and ever since, I have wanted to paint a mural to remember it." says Tasihir Amar '20 (Ulaanbaatar, Mongolia/Carthage, NY).
As soon as Tasihir returned to Mongolia from his FLEX year, he set himself up to achieve just this. He partnered with the Mongolian Cancer Council, an organization that provides accommodations and lodging for patients who come to Ulaanbaatar to receive treatment, to implement his project, which he called "The Starry Room". He was thrilled at the opportunity to work with an organization that does such meaningful work and brighten the lives of the patients.
Tasihir wanted to share peace through his art and he achieved this by painting a giant mural of "Starry Night" by Van Gogh in the dining hall of the Tera Lodge. With help from some of his friends, the team created a massive mural on a large blank wall using acrylic paint. The outcome was beautiful!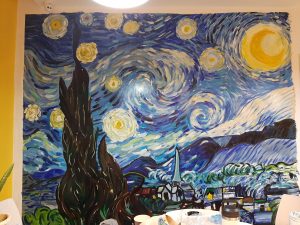 After the mural was finished, the organization put together a grand opening to reveal the painting to the public – including brownies that Taishir baked for the opening!  During the event, guests discussed art and admired the mural.
This project left a lasting impression on the team of painters and has been a bright spot at the Mongolian Cancer Council.  Many patients who have meals in the dining hall shared that they experience the calm and peacefulness that Taishir and the team hoped to achieve with the mural.  Taishir is now planning on pursuing an education in painting, so that he can continue to help his local community through art.
Check out the video below to learn more about Tasihir and his project "The Starry Room."
Written by Myadaggarav Chuluundorj '19 (Ulaanbaatar, Mongolia/Elliott, IA)