Kamilla Sultanova '00, the co-founder of the non-profit Global Dignity Girls & Boys and an expert on workforce diversity and employee and youth engagement, recently facilitated a series of presentations on the need for the development of mentoring and volunteerism  in Uzbekistan.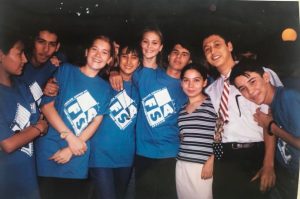 The following are parts of her presentation.  "A lot of work in volunteering is still limited to charity work and helping people with underprivileged backgrounds, such as orphans or children with physical disabilities, and here we need to distinguish that volunteering can offer opportunities to those involved in the private, public, and civic spheres as well."
"My argument why Uzbekistan needs to invest in the development of volunteerism in the country is so that Uzbekistan will utilize it as an active instrument to develop the human capital of this 33-million people nation.  Currently, only 11% of the people of Uzbekistan have access to higher education and 15.8% of the population over the age of 25 have higher education degrees. By 2035, 20.7 million people will need employment in Uzbekistan.  To help educate a whole nation, we can start with establishing and formalizing these educational opportunities through volunteerism that improves the lives of both the volunteer and the beneficiaries.  Plus, volunteerism offers continuous learning.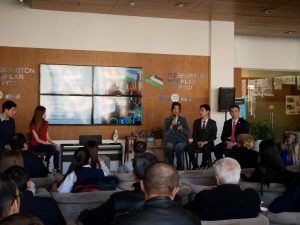 What can you do to support the development of volunteerism? Support a volunteering organization, be a sponsor or a mentor, ask your company, school, university what can they do to enable volunteering and mentoring on its premises and allow you to share your time. Uzbeks are immensely kind people.  We need to return to our roots and change the narrative on what it means to help, be a volunteer, and mentor in modern Uzbekistan. Let's go!"
When Kamilla completed her heart-felt speech, she posted on Facebook that, "One of the best decisions and challenges in my life was to apply to the FSA/FLEX program. It was unthinkable in my neighborhood of Karshi, Uzbekistan to end up studying in San Antonio, Texas. This year gave me self-awareness, a global mindset, and a belief that I can do anything. It was such a life changing experience that I still have this T-shirt with me to remind me of it. I turned 16, got a real cowboy hat, went to the Backstreet Boys concert and
won a scholarship to travel to Washington, DC for Civic Education Week.  I am still friends with alumni who also attended this workshop and it is the gift of a lifetime to connect with these alumni friends all over the world.  Exchange programs like this should be made available to help build character strength, critical thinking and collaboration. I'm convinced such programs can bring both individuals and Uzbek society forward!
#gratitude #alumni2000 #Uzbekistan #UzbUSA2018 #getFLEXbacktoUz #flexalumni #throwbackphotoUSA