Project organizer: Gheorghe Taran '16
Project location: Causeni, Moldova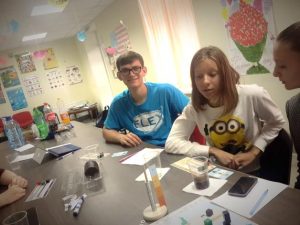 Last summer, Gheorghe Taran '16 had a chance to use the skills and knowledge acquired through the WYLET program by conducting a self-development and online learning project for local teenagers called EdSmart Leadership Academy. It was divided into two training sessions that took place at the Centre for Developing International Relations in Causeni, Moldova, on August 1-3 and again August 9-13.
Eight young people ages 16-18 participated in the sessions, which focused on discovering new ways of informal learning and enhancing communication skills. Four international volunteers from the Netherlands and the UK helped to facilitate the event, the venue for which was provided free of charge.
"The participants came to the training not knowing what to expect as they had never discussed similar topics before. But during the workshop they opened up and became very engaged in all the discussions," says Gheorghe.
There was a wide range of activities conducted during the trainings. The participants worked in small groups, had one-on-one discussions with facilitators, watched inspirational videos, prepared skits and received information about useful online learning portals, such as TED, Khan Academy and Lingvist. On the last day, they played Keep Cool, a board game that explores climate change, which was developed by environmental organization EcoVisio and its partners.
Since the students had different levels of English, those with stronger language skills explained new words and grammatical structures to their peers. Gheorghe believes that helping each other out with translation and vocabulary strengthened the group dynamic. After the training, the participants agreed to organize an autumn reunion where they would analyze the impact of EdSmart Leadership Academy on their personal development.
Meanwhile, Gheorghe continues to post information about online resources, educational programs, and international opportunities on the Be Active Causeni Facebook page, encouraging local young people to become more proactive and keen on learning.