By Anna Novocrescenova '17 (Rezina, Moldova / De Soto, WI) 
Globally to date, there are about 8.3 billion tons of plastic in the world, over 75% of which is trash, according to the Recycle Coach app. And while the "eco-movement" audience seems to be expanding its borders, the plastic recycling sector has barely improved over the course of the last five years. Marine animals are suffocating; the soil is losing its nutrients; we need to act now.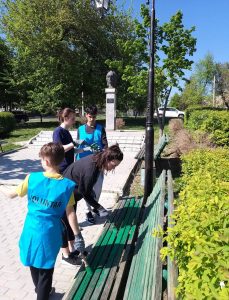 That is the mindset Marina Cobileanschi '20 (Cimislia, Moldova / Sanford, NC) adopted before implementing her GYSD project, "Plastic Pollution and How We Can Change It." 
Marina's native town is quite small (around 11,000 people), yet residents there also struggle with the same environmental issues. Even though plastic bags have been prohibited in Moldova since 2021, people still carry them to the stores; some shops even sell them. Informative sessions about the destructive effect of plastic are held at schools, universities, and workplaces every year, yet few seem to take action. After thorough research, Marina concluded that the cause of this "indifferent" behavior is the lack of solutions.  
"Some people want to change, but they do not know how," Marina said. 
Ultimately, the main goal of Marina's project was to not only describe the damage, but to also come up with practical ways to "fix" the world that we live in. Marina's target audience was youth – the future of her hometown, Cimislia. After an offline seminar on April 30 focused on different aspects of plastic pollution and its devastating effect on nature, Marina invited her project's participants to take part in a workshop where she taught them how to make ecological bags using accessible textile materials that everyone has at home. It was a local solution to a global problem – the first step of the long journey with the picture of a cleaner town on the finish line.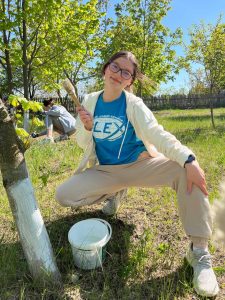 The audience was so inspired to affect change after seeing how easy it was to make a difference that nobody hesitated to participate in a Cimislia town cleanup. Wondering how many people would actually show up, Marina chose a small territory and did not get her hopes up. Yet, the final result exceeded her expectations.
On May 1, over 30 enthusiastic students joined in to clean up the town. Over the course of four hours, they managed to paint 13 benches, 10 trash cans, and 120 trees at the local park and cemetery as well as cleanup their surroundings.