By Anna Novocrescenova '17 (Rezina, Moldova / De Soto, WI)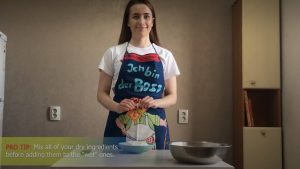 While COVID-19 social distancing measures can make it difficult to stay connected, I came up with a delicious solution to the problem. Nothing brings people together like food, so I launched a project titled, "FLEX Kitchen," with the main goal of sharing alumni's local and American culture through their favorite recipes. 
On October 27, the project was launched in video form on the FLEX Alumni Moldova Instagram. Followers could almost smell the ultimate fall combination of apples and cinnamon through their phone screens as I taught them how to bake the puffiest apple pie. This recipe is very special to me, as it is one of my host family's favorite desserts.  
During my stay in the U.S., I once attempted to cook this apple pie all by myself and failed because I forgot about the Celsius/Fahrenheit temperature differences and did not understand why the crust only barely cooked through two hours after the pie had been put into the oven. But this time around, I was successful. 
FLEX Kitchen was created to share stories like this – stories that have a special meaning in the family, FLEX family, where so many of us share similar experiences.  
Besides the fact that FLEX Kitchen's videos are extremely fun to watch, they are also very informative, as we include a variety of practical cooking lifehacks and facts about each of the published dishes. Since the kitchen is virtual, alumni from all around the world can join, and we are working to make it possible for those outside of Moldova to share their home countries' recipes on the page in the future.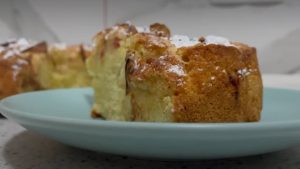 The FLEX Kitchen videos have reached over 3,500 people on Instagram and 5,000 on Facebook. Senior alumni have commented on the videos. Most of them already have their own families and want to cook delicious American dishes for their spouses and their children.   
Thanks to the City Representatives from Moldova, four videos have been posted to date on Instagram and Facebook. We have baked pumpkin pies, made a perfect caramel coat for apples, and cooked pigs in a blanket (small hot dogs wrapped in crescent rolls) from scratch. Our knowledge about each other's cultures has expanded and we have connected on a deeper level.  
At the end of the day, food is what unites us all, no matter what language we speak and what country we represent. We might not all enjoy conversations about politics or science, but when it comes to burgers and pizza, everyone seems to be interested. Food is the ingredient that binds us together, and FLEX Kitchen is a great way to let all members of the alumni community know that even though they are not able to go out for in-person dinners during these difficult times, they will never be cooking alone.