Azniv Tadevosyan '13
Gyumri, Armenia/Visalia, CA
Mentee of the FLEX Alumni Armenia Mentoring Program
FLEX Alumni Armenia Mentoring program started in the summer of 2015. It is a full-year program that connects 25 experienced U.S.-Government alumni with younger FLEX alumni interested in various career fields to work together towards professional and educational development. Currently the Armenian FLEX alumni community is successfully implementing the second cycle of the program with an enthusiastic goal of turning it into the flagship of Armenian FLEX alumni community activities. Throughout the one-year cycle program participants take part in professional development trainings and networking meetings tailored to their specific needs and goals.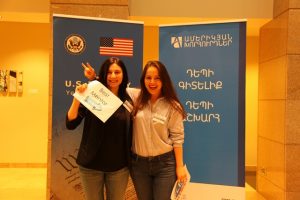 Azniv Tadevosyan '13 (Gyumri) was mentee of the 2015-2016 program cycle whose successful work with her mentor resulted in a startup business in her community. Below is her story:
"Through the FLEX Alumni Armenia Mentoring Program, I was given a chance to meet Magda Markosyan '02 (Yerevan), the co-founder of MAROG Creative Agency. I was very interested in marketing and wanted to know if it was a career I wanted to pursue.  Magda, as an experienced professional in the sphere, started to involve me in the events that her agency was organizing. I participated in a few events as a volunteer and got to see how the work is done. We would meet and discuss marketing related issues and cases. We had no idea that after a while we would make a major change in our objectives of the mentoring program and would start to work on a project together that has been one of the most important things that I have done in my life.
I am from Gyumri and because I like my town, I know many stories about it. I would sometimes lead "tours" for different people, because I simply enjoyed showing people how amazing my city is. After I mentioned this during a usual conversation, Magda advised me to think of creating something that would be much more serious and would have more influence. Even though I had my doubt, I loved this idea. From then on we started to work on the business plan of a startup that is now called "Piece of Gyumri". It seemed like there was nothing difficult about it – that was not the case!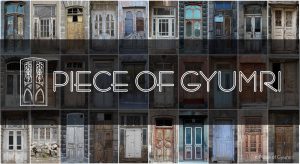 We would set "deadlines" for the stages of the creation of the business plan and would meet after the completion of each stage. As someone who did not have practical knowledge with a startup it was very important that Magda stood beside me and helped me create a plan that could be implemented.  The hardest part of the business plan was writing the budget. It was one of the most important parts of the planning process, because this was the part that would show me if it was a cost-effective venture.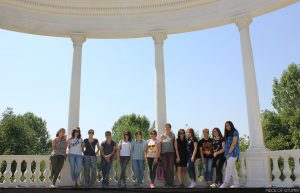 The Mentoring Program is over and I have already started to promote the Facebook page of the startup! The aim of "Piece of Gyumri" is to put Gyumri on the map for tourists and to teach its residents more about the city through walking tours. We have organized several tours, both for groups and for individuals. The number of people involved with Piece of Gyumri is increasing every day.
I have many hopes connected to "Piece of Gyumri" and the greatest of them all is to expand the startup and make it to a level where it can become a social enterprise and have a major influence for the life and development of Armenia's cultural capital.  All of this was created thanks to the Mentoring Program and Magda, who has been not only my mentor but my friend as well.  She has had a great impact on the development of my perspectives. Even now, after the program's completion we keep in touch and I freely approach her with any questions."