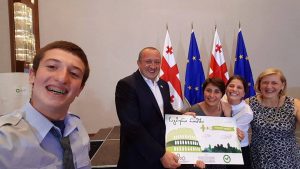 FLEX alumnus from Georgia Davit Khutsishvili '16 (Akhaltsikhe, Georgia/ Clinton , WI) and his team recently won a nationwide competition in Georgia aimed at encouraging young people to vote in the upcoming Parliamentary elections. The competition 'Your vote – our future' was financed by the President Reserve Fund through President Giorgi Margvelashvili's initiative and managed by Democracy Lab.
Davit's project entitled Everyone – Every time encourages young people and first time voters to take part in the civic process.  The team held an art exhibition and classes throughout the Samtskhe-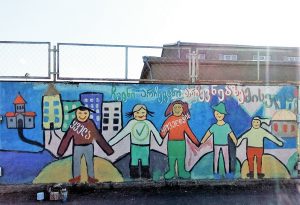 Javakheti region where 5-12 grade students learned about the election process in presentations and drew artwork depicting their dreams of the future of the country.  The art was displayed at an exhibition, which was held at the Akhaltsikhe Art School and shared actively on university websites and social media.  The campaign compelled others to see their vote as a way to develop the future of Georgia for themselves and their children.
Davit and his fellow team members won an educational trip to Rome, Italy. President Margvelashvili and the mayor of Akhaltsikhe personally congratulated the winning team and local and regional television
covered the event.
Watch the video, posted on President Margvelashvili's Facebook page, of Davit accepting prize with his team.  Pictured here, David (in the stripped sweater) receives compliments from President Giorgi Margvelashvili for his work in the competition.