Anna Heremes '15
Project Location: Shostka, Ukraine
$350 in Eastern Europe FLEX-Ability Grant Funding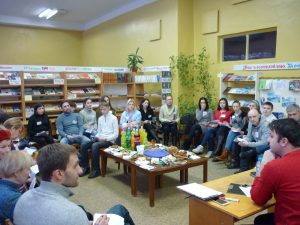 On December 26 Anna Heremes '15 realized her vision for creating an English language resource center by opening the Uniting Space Hub in her local library in Shostka, Ukraine. Through Eastern Europe FLEX-Ability Grant funding and donations from the U.S. Embassy and EducationUSA Resource Center Anna was able to equip the space with English books, board games, educational videos and information boards where academic and professional opportunities are posted. The local mayor, Noha Mykola Petrovych, contributed bookshelves, a table, and five Lenovo tablets to the initiative.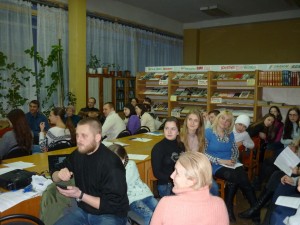 On January 9, 2016, with the support of local NGO the Power of Intelligence, Anna held the first meeting of the language club 'Insight into English' in the newly opened Uniting Space Hub. From January to March, more than 100 young people participated in this club's weekly activities developing their English language skills through games, music, films, discussions, and other interactive means. The Hub and its resources are also used by other members of the community, such as NGO representatives, government officials, teachers, students and senior citizens on a regular basis.