By Diana Shalashna '18 (Poltava, Ukraine / Englewood, OH)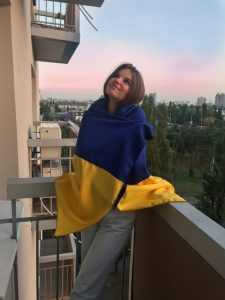 Oleksandra Mukha '20 (Zhytomyr, Ukraine / Brooklyn Park, MN) is an active volunteer with "Let's Do It Ukraine SOS."
At the start of the Russo-Ukranian war, Oleksandra helped launch "Let's Do It Ukraine SOS," a volunteer organization that collects international humanitarian aid from various countries, including resource and financial donations, to support volunteers, children, women, the elderly, and all those affected by the Russian invasion of Ukraine.
The following is an interview with Oleksandra, lightly edited for clarity. 
Diana: Oleksandra, tell us about your involvement in "Let's Do It Ukraine" before "Let's Do It Ukraine SOS" was created. What were your responsibilities initially? 
Oleksandra: "Let's Do It Ukraine" is a Ukrainian environmental movement, part of the global movement "Let's Do It World," which organizes World Cleanup Day and coordinates a network of organizations across 180 countries. As a regional coordinator for the organization, I was responsible for organizing World Cleanup Day in the Zhytomyr region last year. My team and I gathered 7,111 participants and collected 94,303 kg of trash. 
Diana: How was "Let's Do It Ukraine SOS" launched? What is your role in the project?  
Oleksandra: Since the first days of the war, Ukrainian citizens faced a humanitarian crisis. And as days went by, this issue was getting increasingly worse. The entire team of "Let's Do It Ukraine" united together and launched the "Let's Do It Ukraine SOS" project, which fundraises money and collects international humanitarian aid from various countries to support all victims of the Russian invasion of Ukraine. I oversee logistics and communication with donor organizations. I assist in transporting goods to Ukraine, from where they are then distributed around the country. 
Diana: After the Russian attack, many people in Ukraine found themselves doing new things they had never done before. Do you think current activities are challenging for you? What have you learned during the project?  
Oleksandra: Considering everything I've learned about a supply chain, I feel capable enough to open my own logistics company when the war is over! All jokes aside, my volunteer experience during this war taught me that the most important thing is being a human.  
Diana: Share with us the results of your hard work. What have you and your team accomplished? 
Oleksandra: During the first month after the attack, we received and distributed more than 240 tons of humanitarian aid to every Ukrainian region. We also fundraised 1,600,000 Ukrainian Hryvnia (equivalent to $54,400) to buy water, food, first aid kits, socks, blankets, and other necessities in areas where the aid couldn't be delivered due to active hostilities. 
Diana: Right now, many volunteers are struggling with work-life balance since they want to help as much as they can but don't necessarily have the capacity to do so. How do you deal with this problem? 
Oleksandra: Ukraine is my home, and it feels like my family is 40 million people now. Many of them need help and no matter how tiring or challenging it may be, I know that I must keep going. It seems overwhelming sometimes, but I am surrounded by the best team ever. 
Diana: What would you recommend to people who want to get involved in volunteering for "Let's Do It Ukraine SOS" or any other NGO?  
Oleksandra: That only together we are strong. It doesn't matter if you try to mentally support somebody or fundraise money. The only thing that matters is your willingness to help. 
I know that many international readers will see this article. I would like to ask everyone not to stand aside but to help in any possible way. We need your help right now; only together are we strong.