Aram Manukyan '15 Project Title: Resume Writing and Interview Skills Project Location: Yerevan and Ejimiatsin, Armenia $ 250 in South Caucasus FLEX-Ability Grants  
Resume writing and job interview techniques are extremely important skills that are not taught in every school. To prepare students for a job application process and its challenges, Aram Manukyan '15 organized a career development training in two Armenian universities, the Yerevan State College of Light Industry and the hEjimiatsin State College. In total 61 students took part in the two trainings.
During the first part of the training Aram introduced the participants to the concept of the resume and explained how to compile it and highlighted what experience to include and what to omit. The second session was dedicated to developing effective job interview techniques. To give students an opportunity to practice their new knowledge, the alumnus developed fun and engaging mock peer interviews.   At the end of the trainings the alumnus assessed the results by conducting a short quiz and asking the participants to fill in an evaluation form.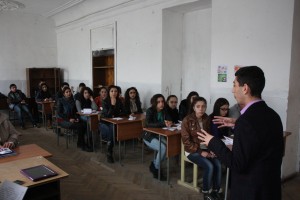 'The project was successful in both universities. A lot of the participants said that the knowledge and skills they had received would be important in their future careers and I'm happy that I helped them to develop those' says Aram.
The project was implemented as a follow-up of the South Caucasus FLEX-Ability Workshop where forty-four FLEX alumni attended trainings on various topics, including career readiness trainings and took part in skill building classes to learn how to organize  activities in their communities.